By Micheal Eboh
Nigerian National Petroleum Corporation, NNPC, earned $180.93 million, about N55.2 billion, from the export of crude oil and gas in the month of August 2016.
This, according to the NNPC Monthly Financial and Operations Report for August 2016, represented a decline of 14.76 per cent when compared with crude oil and gas export revenue of $212.25 million recorded in July 2016.
Giving a breakdown of the figures, the report noted that the NNPC earned $120.84 million from crude oil exports; $60.09 million from gas exports, while $935 million was earned from other petroleum product exports. Of the total receipt, NNPC explained that the sum of $157.05 million and $23.88 million were remitted to fund Joint Venture, JV, Cash Call and Federation Account respectively.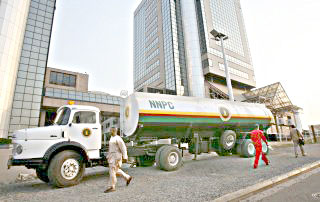 Crude oil  liftings
NNPC blamed the poor export revenue on the attack and sabotage of oil facilities in the Niger Delta, adding that at Forcados Terminal alone about 300,000 barrels of oil per day, bopd, were shut in since February 2016 following force majeure declared by Shell Petroleum Development Company, SPDC, which saw the deferment of crude oil liftings.
It added that the other major terminal affected by the renewed spate of vandalism which also depleted the country's export revenue includes Bonny, Usan and Qua Ibo terminals.
Furthermore, the report disclosed that the NNPC earned N89.816 billion from the domestic sales of crude oil and gas, with domestic crude oil sales accounting for 97.99 per cent with N88.012 billion, while domestic gas sales fetched the Corporation N1.8 billion. It stated that, "Of the N88.01 billion receipt from crude oil, the sum of N52.96 billion (US$268.83 million) was transferred to Joint Venture Cash Call (JVCC) being a first line charge and to guarantee continuous flow of revenue stream to the Federation Account.
"NNPC transferred the sum of N35.05 billion into the Federation Account during the month under review from the net domestic crude oil receipt and N 1.80 billion from Gas receipts.  Also, the 25th instalment of the refund to the Federal Government of N6.33 billion was remitted to the Federation Account," the report stated. NNPC explained that domestic crude oil and gas revenue was impacted by vandalisation, as it recorded crude oil losses of N1.635 billion, while N14.99 billion was spent on pipeline repairs and management. NNPC lamented that incessant vandalism, crude oil and other products theft have continued to destroy value and put NNPC at disadvantaged competitive position.
According to the corporation, reduction in vandalism will unlock several industry upsides which include improved upstream oil production due to reduced pipeline disruptions, improved refinery utilization due to increased crude oil feed from restored pipelines, and reduction of crude/product losses.  NNPC put the average Crude Oil Spot Price at $44.87 per barrel of oil per day, up from $44.13 per barrel of oil per day in July 2016 and down from $45.69 per barrel of oil per day a year ago.