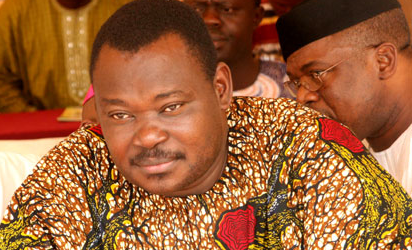 Jimoh Ibrahim
By Dayo Johnson
THE PDP Governorship Candidate, Mr. Jimoh Ibrahim, has promised to restore electricity supply to all the six council areas in the Southern Senatorial District within the first three months of his administration, if elected.
Ibrahim frowned at the 'I don't care' attitude of Governor Olusegun Mimiko to the protracted power outage in all the towns and villages within the Southern District of the state.
Towns like Oke-Igbo, Ore, Odigbo, Okitipupa, Irele, Ode-Aye, Ajapa, Akotogbo, Igbokoda, Igbotako, Ilutitun had been cut off from the national grid by the Benin Electricity Distribution Company (BEDC) over debts running into millions of naira.
The candidate made the promise at the palace of Jegun of Idepe, Oba Micheal Adetoye in Okitipupa during a campaign.
Ibrahim, who had earlier visited the palace of Abodi of Ikoya, Oba Faduyile also promised to reintroduce the boarding system to Government owned secondary schools across the state.
"The issue of electricity in this Senatorial District is very embarrassing and shameful."
The last time I checked with BEDC, the company said the whole Senatorial District owed a backlog of unpaid bills of about N300 million which warranted the cutting off all the towns from the national grid.
"I promise within the first three months in the life our administration, we will pay up the whole debt and restore electricity so that the economy of our people here will improve and our artisans will be back to their jobs as electricians, saloon operators, iron welders, hotels and relaxation spot operators, as well as bringing back the social lives in all these towns,'' he said.