By Anayo Okoli.
UMUAHIA — A group, South East Solidarity Movement (SESM), has described Ekiti State Governor, Mr. Ayodele Fayoshe's call on the National Judicial Council to sack Justice Okon Abang over some of his judgments as "as reckless and idiotic".
Governor Fayoshe was quoted as saying that the nullification of Justice Okon Abang's judgments in Abia matter and Ondo PDP case by the Court of Appeal showed that Abang "is representing the interests of some cabals".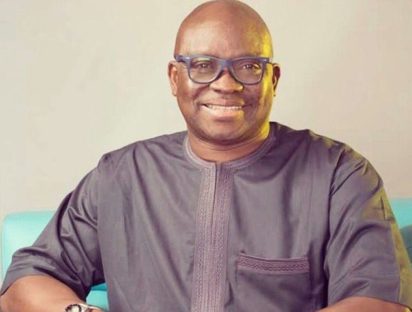 According the group, in a statement signed Barr B. E. Ekwem and Mr. George Iruke, the group's National President and National Secretary, respectively, noted that "in as much as we will not hold brief for Jimoh Ibrahim and the Ondo PDP, it is pertinent to inform the general public of the differences in two suits and their judgments, in as much as we do not want to preempt the outcome of the matter from the Supreme Court which is subjudice".
The group explained that the suit of Ondo State talked about the replacement of candidates of their party by INEC while the judgment of Abia State was purely based on misinformation to his (Ikpeazu's) party, the PDP and INEC.
The statement further noted that "it is also pertinent for the general public to understand that the judgment of Abia State given by Justice Okon Abang has no business with forgery, but misinformation given both to the party, PDP and to INEC by Gov Okezie Ikpeazu".
"This is an indication that Abang's judgment is very authentic. The documents which the court perused and which the judgment of Okon Abang were hinged on were all supplied by the defendants and therefore rules out the claims of forgery as naively stated by Fayose.
"In the light of above, we summit that the Fayose's call for the sack of Justice Okon Abang is frivolously, malicious, laughable, reckless and idiotic. We therefore urged the general public and the NJC to discountenance it".