By Ishola Balogun
Every bit of human knowledge is from the past whether immediate or distant.   Just like historians would say, what happened long ago matters in our present lives.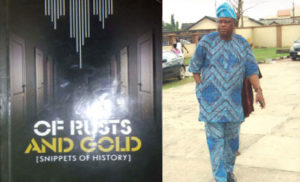 Hon Femi Kehinde's inspired book titled: 'Of Rusts and Gold' addresses the salient issues of Yoruba cultural and political history, contemporary Nigerian politics, as well as the entrepreneurial spirits of early Nigerian traders and industrialists. It exposes the beginning of the ancient Ibadan and its dwellers to how it evolved into a sophisticated city.
As part of his exposition, Ibadan, serves as a melting point for the early elites, JP Clark, Wole Soyinka, Daniel Fagunwa, Amos Tutuola among others to a rendezvous of successful entrepreneurs such as Salami Agbaje, Sanusi Adebisi Giwa as well as creating statesmen such as Obafemi Awolowo, Ladoke Akintola, Bola Ige and others, so much that quite a number of them had a blossomed spousal relationship which translated into happy married lives in Ibadan, the most cosmopolitan in Africa then.
More interesting is the narrative on Ooni Stool and the Yoruba nation, The intrigues before coronation and installation; The life and times of Oba Olateru Olagbegi of Owo, as well as drawing connections, similarities between leaders of the glorious past and the decaying present. All of these are well reflected in the sprawling narrative of snippet of history authored by Hon. Barrister Femi Kehinde. They are light and irresistible materials for the lovers of history.
Hon Femi Kehinde is a lawyer, but he has the historian's gift for trawling archives fruitfully. That hard work has thus given birth to a hard, deep and interesting thoughts of our past as a people.
Aside his stint at the House of Representatives, Hon Femi Kehinde has been a regular contributor to the public discourse through authoring several publications that dwelled on historical personalities and issues of our contemporary Nigeria.
The book, slated for launch on October 19, 2016, at the Trenchard Hall, University of Ibadan, by 12:00pm, is expected to attract the crème de la crème of society, academics, civil society and advocacy groups.
According to Hon Kehinde, "the book is my modest effort in ensuring that society recognises the place of history in the Nigeria of today and to regulate the imperishable contributions of heroes past (most of them forgotten) who were the precursors of the Nigeria of today. It singles out some historical exemplars who helped to push Nigeria to the front burner in the narratives of the world and who, over the decades, contributed to the tangible and intangible developments of the Nigerian society, some of them, in spite of their cultural, political and economic limitations."
Meanwhile, Akoosa Publishers Limited has been saddled with the responsibility of bringing this book to a wider audience.
About the Author
Hon Femi Kehinde is a lawyer, a one time member of the House of Representatives, between 1999 and 2003; representing the Ayedire/Iwo/Oluoluwa Federal Constituency of Osun State. He researches and publishes articles on key players of Yoruba cultural, political and economic past.