By Funmi Olasupo
ABUJA- THE Federal Government has denied insinuations that it had completely banned rice importation into the country, saying that it only restricted the importation of the product through the designated Sea Ports.
The Comptroller General of Customs, Col. Hameed Ibrahim Ali (Rtd) explained that the restriction became necessary in order to protect the country's local industry and enhance national food security.
Ali, who stated this at a joint press conference on illegal rice importation to Nigeria, in Abuja, maintained that land-boarders had always been used by smugglers to bring substandard rice with health implications into the country .
"Protect Nigerians from consumption of unwholesome rice with health implications; protect our economy from unpatriotic elements who are depleting the nation's foreign exchange through rice smuggling.
"Ensure that the fragile security situation in our country is not further compromised by those who may use it as a means of concealing dangerous weapons into Nigeria.
"Let me therefore start by restating the fact that importation of rice into Nigeria is not banned. What we have is restriction on the point of entry to our Sea Ports only," he said.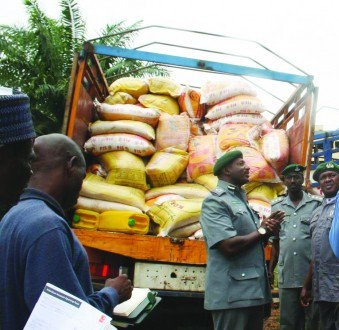 It may be recalled that in April 2016, the Nigeria Custom Service introduced the ban on the importation of rice through the land borders.
The CG noted that the reversal of the policy introduced in October 2015 was informed by the high level of non compliance by the rice importers, who resorted to large scale smuggling of the product.
"Five months down the line, it has become imperative to raise this alarm that importers of rice through the boarders are still up in arms against the economy.
"As you may be aware, we remain firm in our resolution to enforce the restriction of rice imports only to our sea ports, we have recognized our anti-smuggling patrols to provide additional capability and bite. We have reconstituted our compliance teams created to compliment our Federal Operation Units and the regular resident officers deplored at our boarder commands, " Col. Ali said.
Also speaking, the Ag. Director General of National Agency for Food and Drug Control agency, NAFDAC Mrs. Yetunde Oni said that rice and some other products imported to the country were not registered making it to often fell below standard.
"It is pertinent to state that records have shown that rice products imported through the sea ports are registered and are of good quality as pounced by statutory reports from NAFDAC laboratories whilst those smuggled through the land boarders are unregistered and largely substandard.
"In the first quota we got N21bn representing 54 per cent of appropriation for the main ministry that was released and in the month of July. The late release of budget release slowed down our performance because of the Procurement Act of 2007, we have to go through the processes a little bit earlier.
"However, the Minister expressed optimism of the sector and said, "The National Bureau of Statistics published the performance of the economy a month and half ago of the second quota and agriculture recorded a growth of 4.5 per cent in an economy that is under recession, and we may be approaching 6.2 per cent when the result is next published. And that means Nigerians have responded to the call on agriculture than any other sector in the history of this country."