By Denrele Animasaun
"If only the Nigerian – whatever his or her station – will think less of himself and think more about the nation, maybe then, Nigeria will begin that tough march into the future"-Dele Giwa
19th October, 2016 marked the 30th anniversary of the assassination of Dele Giwa, the Editor-In-Chief and founding member of Newswatch, the eponymous newsmagazine. Thirty years on, the person or persons unknown that carried out this dastardly and cowardly crime remain at large. The truth, no matter how long will eventually out. One day, it will happen but it will not matter. We know what happened: a good man died that day. A man on top of his profession ladder was cruelly killed because he dared to tell the truth.
Theories as to who carried out or gave the order for Giwa's death is a hot topic of conversation and it has been for decades and it irked some people who were implicated, that they had to step forward to deny their involvement in his death. Someone somewhere knows the truth and they are deliberately keeping quiet. Guilt is such a heavy burden to bear so the longer they keep the secret to themselves, the more a burden they will continue to bear.
Dele Giwa's death shook the whole nation and particular, the way he was assassinated; it was unheard of at the time in the nation's history.  A parcel bomb, this was the stuff of novels, the cold war assassin, just not what was imagined happening in real life.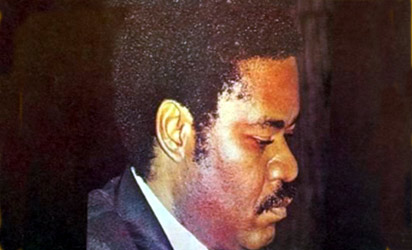 On this fateful day, Dele was home with his friends and family, according to people who were at his residence, a brown parcel was delivered to his home by motorcyclist courier. The gate man gave it to Giwa's son, Billy, who handed it over to his father as it was addressed to him. The parcel exploded as he attempted to open it. His wife who was in the kitchen came rushing in on hearing the loud explosion but there was nothing she could have done but comfort the dying Giwa.
The impact proved fatal and Giwa stood no chance and the others were lucky to have survived with life changing injuries.
The day after the news reverberated across the nation, it was met with total disbelief and sadness. Life as we knew it was never going to be same, the bubble of innocence busted for the young people that day.
Dele Giwa, like many before him, had returned to Nigeria after successfully achieving academic excellence abroad and he was full of promise and determination. He had a vision and he surrounded himself with similar talents, all contributing and breathing new blood into Nigerian journalistic landscape and boy, did they or did they?  Newswatch was in the same vein of Time, the news magazine.
Newswatch was full of young, talented, patriotic people; they brought a new JOIRE DU VIVE and credibility to journalism in Nigeria, full of reportage, real investigative contents and direction.  They were very brave, refused to compromise, such was their dedication to their craft and they did not kowtow to the establishment much to the chagrin of the khaki brigade. Newswatch was read far and wide in Nigeria and it had an impressive circulation to boot.
When the seismic event such as this happens, you never forget where you were when it occurred. I knew exactly where I was when I heard of Giwa's death. I was as shocked and sadden as many other Nigerians were that a young man in his prime, an erudite, very, talented journalist could be killed in such a vicious manner.  How can anyone guarantee their safety after that so it became more real than anyone that criticised the government was a marked person or persons?
I took this personally as my father was in the profession and he was fearless and wrote as he saw it. I remembered my mother would be restless until my father returned from work after that. This was the days before mobile phones so in production nights my father was out until the early hours of the mornings.  My mother would stay up fearful and pacing the room until he returned.  My father took a more pragmatic stance; he always packed his praying mats just in case they were to detain him!
I attended an art college very close to the Newswatch HQ so my college mates and I witnessed the goings on immediately after his death.  The eerie silence that followed when the news broke was like no other that I ever experienced and I am yet to witness anything like that since. The traffic was lighter and people were huddled together, whispering in groups and in absolute shock.
Days that followed his death, there were different conspiracy theories that ensued; that Giwa and his colleagues were close to lifting the lid on some serious expose that will implicate the regime of the day and they were determined to stop him even if it meant that they cowardly extinguished the life of such mercurial journalist. Thirty years on, they may have killed the messenger but have not been able to kill the message.
What the death of Giwa did was to herald a new dawn of mistrust of the regime and people realised: that they very much knew that there was skulduggery going on and the finger of blame was pointed firmly at the very top of the regime.
That day, the 19th of October, 1986, Nigerian Journalism became a dangerous profession and if reporters were to do their job, then they could no longer be as direct and as fearless.
I went to the Newswatch HQ office days after Dele Giwa's death to pay my respects and to sign the book of condolence.  There was a long line of people who came to pay their respects and this was the mark of this man. As you get into the imposing building and ushered into the meeting room with a very long meeting table, there were numerous books of condolence and on the wall, there were pictures of Dele Giwa, depicting his body: his face was more or less intact save for the raw wound in parts where the blast ripped and most damage was to his lower limbs. His legs were blown cleaned off, leaving mangled stumps. This sight troubled me and had an impact on me than I ever admitted for a long time.
This was a calculated crime. The parcel bomb was deliberately rigged to kill, maim and do damage and that it did. I can never forget the mangled body of a brilliant man, cruelly taken by the harbinger of greed and deceit. Dele Giwa, he truly lived and made an impact on so many young people and their choice of profession.
He inspired many who took up activism and aspired in them the hunger for democracy. With Dele Giwa, we took notice and thirty years on and we still remember him.
Those that remain mute and were complicit in his death or covering for those that committed the crime should know this; they did not get away with justice, it may be delayed but it cannot be denied for this heinous crime. Free press in Nigeria is a perilous process. The dark forces tried and they failed spectacularly to kill the truth. Dele left a wife and five children, close friends, family and countless colleagues.
I am so pleased that the Director of IPC, Mr. Lanre Arogundade made a statement as part of the activities to mark Giwa's death this week. He said; "The death of Dele Giwa, has over the years shown just how journalists could be endangered. Many other journalists have been killed, and we must not relent in the pursuit of justice for them, and the safety of journalists in Nigeria."
Whoever killed Dele Giwa, if they are alive or dead should know this- Dele Giwa's will always be remembered.
"Who will save the children of Africa? Africa is poor, divided and gored by its own leaders who loot its wealth and hoard it in Switzerland. Is that why God is angry with us. But why should the children of Africa pay for the sins of their fathers"-Dele Giwa,- Save the Children, Parallax Snaps, Newswatch, June 17, 1985.
Remembering Ken Saro-Wiwa Jr
It is so sad to hear of the passing of Ken Saro -Wiwa Jr. He died after a stroke in London aged 47. The eldest son of prominent Nigerian activist Ken Sarow-Wiwa who was hanged by Nigeria's then-military regime for speaking out for the environmental impact of the oil spills in the Niger Delta and the Ogoni land area. Ken Saro-Wiwa Jr took on the cause and kept the plight of his people in the international arena.
He said of the progress; "the past 10 years the Ogoni have registered landmark victories in court cases against Shell in New York and London. I am sure my father will be looking down and chuckling that activists who cut their teeth on the Ogoni case were part of the coalition that last week pushed President Obama to reject the controversial Canada-to-Texas Keystone XL pipeline".  He added, "Perhaps one day my father's story will be more than a footnote in that history"
Without a shadow of doubt, Ken Jr did his father proud and the Ogoniland lost a champion.
He also served as a Nigerian government adviser from 2006 to 2015. Tributes came from different quarters and the president paid tribute to Ken WiWa Jr: "Wiwa was an ardent believer in the unity, progress and stability of his community. I urge family, friends and associates to honour his memory by making his dream of an environmentally safe, secured and prosperous Ogoniland a reality,"