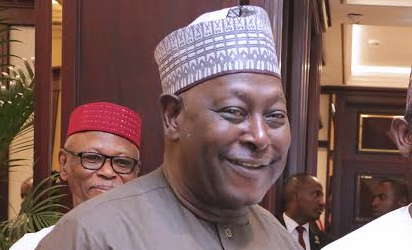 Engr Babachir David Lawal
The Secretary to the Government of the Federation(SGF), Mr Babachir Lawal has said the Buhari lead APC government is chasing thieves'
Expicationg that the situation of Nigaria today is beacuse some people in the past PDP government kept the nation's 'common patrimony' in 'deposit accounts for their wives and children' and that some people walk into Central bank took $2.2 billion raw cash.
Babachir Lawal in an interview on Channels TV said that he was honored as a cabal member in President Muhammadu Buhari's governmnet.
Below are excerpt of the interview
"I am honored to be a cabal in this presidency. I have no apologies to make. If the President decides that he wants a secretary to the government who is going to work with him, coordinate the activities of his government, who will give him advise, obviously that man should be able to have unfettered access to the president.
He is supposed to be able to give advise to the president because he is with the president on a daily basis in a manner that others might not have."
"Could we have known for example, that somebody can walk into Central bank, reverse his boot and leave with $2.2 billion raw cash. Could we have known that somebody will sit down and embezzle 40 billion. Look at the type of money they were dispatching.
So we should keep quiet and let Nigerians think that everything is ok? That there was no looting. We are in the position we are in because people that came before us prefered to carry our common patrimony and put it in their deposit accounts for their wives and children. What type of country are we if we decide to play the Ostrich.
Nigerians most be told what we inherited and majority of Nigerians I can assure you are in favor of what the government is doing. Of course quite a few that were beneficiaries of this looting will make noise. Majority of them have access to papers, internet. We are chasing thieves. We are chasing people who took away government money, our money. People who impoverished us" he said.