*Vehicle Inspection Officers performing their lawful duties- Bepeh, CVIO
*The law empowers CRTA to regulate tricycles – Ekpang
*They treat tricycle operators like animals – Dr. Ewa, Chair, Tricycle Owners Association 
By Ike Uchechukwu
CALABAR — THERE is misunderstanding in Calabar, Cross River State, over which government agency is responsible for registration, regulation and inspection of tricycles in the state. Investigations by NDV showed    replication of functions by three different government agencies, the Department of Public Transport, DOPT, Vehicle Inspection Office, VIO and Cross River Commercial Transport Agency, CTRA, creating disorder in the system.
Tricycle operators cry out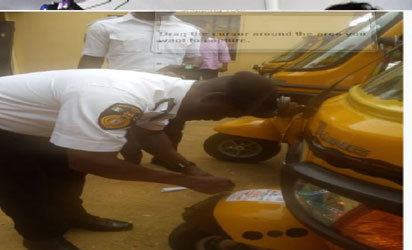 Meanwhile, the Tricycle  Association in Cross- River State has raised alarm over the extortion and harassment of members in Calabar by staff of its the Cross River Commercial Transport Regulatory Agency, CTRA, saying the officials deal with tricycle operators as if they were animals and beat them like goats.
Chair, Tricycle Operators/Owners Association in the state, Dr Ekpeyong Ewa, said: "As we speak, my union members are being harassed on a daily basis, treated like animals and beaten like goats by CTRA staff all in the name of enforcement.
We lose close to N2 million weekly to these miscreants that come in the name of enforcement.
"They drag you like a hooligan and sometimes pounce on you when you refuse to do their bidding and we can no longer take it, which is why we have decided to go to court to seek redress and to ascertain who really should carry out this function."
Duplication of duty
He said there was an ongoing commercial tricycle particulars update with the DOPT, which issues operators with  rider's cards/certification, vehicle license, road worthiness, certificate of insurance, fire extinguisher, spare tyre.
His words:" My members are moving to the place in their hundreds to do the needful and I do not know why even after the road worthiness tag of the VIO, we are still being harassed.    But we want the court to settle this once and for all so that we can have peace."
"We are a registered trade union and we cannot continue to face extortion and harassment from any agency or body in the nane of enforcement, people should do things the right way."
We must capture tricycle operators bio-metrically- CVIO
Chief Vehicle Inspection Officer, CVIO, in the state, Engr Paul Bepeh, said:    "Henceforth, tricycles popularly called 'Keke NAPEP' plying the road without being duly captured and certified in the ongoing Biometric exercise carried out by the Vehicle Inspection Officers (VIO) in Cross River State would be impounded.
"Following the upsurge in crime in the state, the exercise became necessary to enable the VIO regulate the activities of Keke operators.
The biometric exercise is absolutely necessary to enable us  regulate and ensure that tricycle operators follow the laid down rules and regulations for better service so that we would have less crises, less theft issues," he stated.
He added: " Recently, there have cases of kidnap and theft with the use of keke, so there is need for us to get their data and know them.   There is need for us to give them routes to ply, feeder roads. Besides they need to have basic knowledge of road signs and regulations."
Bepeh asserted: "We have captured some of them and inspected the quality of their
keke to ensure that anyone that is roadworthy is issued with tags. It is also to ensure that they have orientation and are licensed to operate in those routes."
The law authorizes CTRA – Ekpang
Contacted, chair, CTRA, Mr. Ndifon Bassey, directed NDV to the secretary, Raymond Ekpang, Esq., who maintained that the agency was established by the law and every function it carried out was within the ambit of the law.
He disclosed:" I saw a leaflet from the VIO and DOPT approving routes, that is the number one conflict that is bringing this so-called harassment, look at our law,    Section 5 (a),(b), it is clearly stated,    so we are not in any way doing something illegal, we have the right to regulate them as provided by law."
Efforts by NDV to reach the Commissioner for Transport and Marine Services, Elder Saviour Nyong, whose ministry supervises the agencies for comments were futile, as he neither replied SMS sent to his cell phone nor kept the appointment he gave NDV.