By Princewill Ekwujuru
Association of Professional Bodies of Nigeria, APBN, said in Lagos yesterday that the economic recession in the country was not bad as it was being painted.
According to the group, all government needs to do is to focus on governance with attendant needs of the citizenry.
Outgoing-President/Chairman in Council of the body, Mr. Gabriel Fasoto, who made the remark at the 32nd Annual General Assembly, AGA, of the Association, said Nigeria had the resources to move out of recession as quickly as possible.
He said: "It is only the harmonisation of these resources that we (Nigeria) need and only the professionals can assist government to quickly get out of the current situation. We have everything it requires to get out of this mess.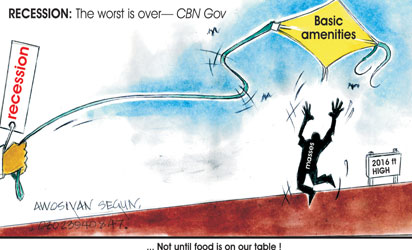 "It was recently we discovered that government was not taking us seriously, we then felt the need to come together as a united front and then proffer suggestions to government.
"It took time before government realised that they are supposed to take professionals more seriously. I want to assure you that they have increased the number of professionals in the country's affairs. We are partnering with them, and we believe that they will take our advices more seriously than ever before."
Fasoto, who stated that the anti-corruption war waged by Muhammadu Buhari's administration is already yielding positive results, but noted that implementation of the Treasury Single Account, TSA, had provided greater visibility of government revenues and cash flow between June 2015 and April 2016, with total collected hitting N3 trillion.
He urged government at all levels to endeavour to translate the success recorded to good governance, restating the APBN's commitment to the development of the country by offering its services to the government and its agencies.