The Senate President, Dr Bukola Saraki on Tuesday, assured Nigerians that the present economy recession rocking the country will soon be tackled through legislative support.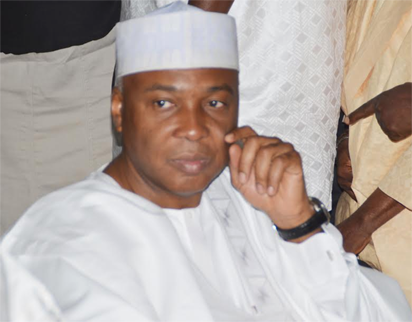 Saraki, gave the assurance in Ilorin during an interaction with Journalists, while also affirming that Nigerians were really suffering.
According to him, the major preoccupation of the Senate upon resumption in September 20, will be on finding solutions to the economic recession.
"We are going to have an exhaustive and comprehensive debate on fixing the
country's economy when we resume next week.
"Already, all the economic priority bills are being analysed and collated so that we can hit the ground running when we resume. We understand the pains that Nigerians are going through and we do not take this for granted.
"Additionally, the Senate intends to invite everybody involved in the management of
the economy to address the Nigerian people through the parliament on the steps that are being taken to get us out of this mess," he said.
He said ,"We fully intend to hold all those involved in the economic management of the country accountable.
"However, we will do so in a manner that is transparent and beneficial to the country as a whole".
The Senate President said it was equally important to begin to formulate and actualise both legislative frameworks and executive policies to minimise the effects of the recession on Nigerians.
He added that it was also important for the parliament to start asking questions that will lead to plausible solutions.
"We need to ascertain our actual level of borrowing and what effect the devaluation of the naira has had on our economy.
"In every crisis, there is always an opportunity for positive reforms, in this regard,
in order to solve this crisis, all hands must be on deck.
"Ideas should be sourced from all quarters, all arms of government, people of different political beliefs, from all socio-economic backgrounds and every part of Nigeria must work together at this time," Saraki said.
He reiterated his call for a broader and bolder economic plan with input from both
legislative and executive arms of government, the private sector and professional groups.
All the groups, according to him, must work together to put in place interventions that will create more jobs, strengthen the naira, bring more investment into the country, and attain fiscal responsibility.
Saraki harped on the need for Nigeria to rally its best economic minds both from within the country and in the Diaspora in order to tackle the economic recession.
"This recession does not identify with any one party, we need to tap into the expertise of our best economic minds to come up with plans that both the executive and the legislature can evaluate and implement", he said.
Saraki therefore called on Nigerian pilgrims in Saudi Arabia to pray fervently for the recovery of the nation's ailing economy.