By Josephine Agbonkhese & Anino Aganbi
At some point in your life, you've been offered a multi-level marketing, MLM, network marketing, direct selling, or referral marketing business opportunity. While the offer varies from company to company, it basically promises a chance to either ditch your 9-5 work schedule and be your own boss, or make lots of easy, extra income alongside your 9-5 work schedule.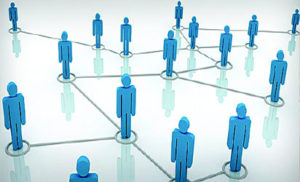 It all sounds really good, yet there is a seemingly endless debate over whether these companies indeed have the capacity to catapult one to a life of affluence or at least financial comfort.
MLM is thus largely regarded a controversial marketing strategy, in which the sales force or marketer is compensated, in most cases, for recruiting others (downlines), and gets profit for selling the company's products. Its origin is said to date back to the 1920s, 1930s California Vitamin Company, (later named Nutrilite) or California Perfume Company (renamed as "Avon Products").
Though it isn't exactly clear when MLM made its debut into Nigeria, the industry hasn't only continued to grow but has also won the hearts of a significant percentage of the nation's women population—apparently due to its promise of financial freedom with promises of flexibility and claims of "no-stress".
'I'll start earning extra cash soon'
"I just started last month. My sister, this thing is really working. People are traveling abroad and  and winning cars. The lady who introduced me to it has been in the business for two years, and through it, she's travelled to Greece and so many other countries.
What it entails is for me to bring in people, and as those people also recruit downlines and grow their downlines, I also grow and get paid monthly. You're actually given goods worth the money you paid for registration. I paid N96,000 to register and was given products worth that amount.
As my downlines also recruit others, my income will keep growing," Funmi, a mum and fashion designer who hopes to benefit from MLM's "cool", "extra" cash, enthusiastically told Woman's Own as she revealed she had to sell some of her gold jewelry to foot the exorbitant registration bill.
Funmi is only a beginner, anyway, so we hope she testifies in the affirmative one year from now because just as there have been too-good-to-be-true testimonies about the business, there have also been very, very sour ones too, as shared by Janet, a full-time mum who had jumped at the business' assurance of easy income which wouldn't steal much of her time as a housewife.
'It's a waste of money, time'
Janet said regretfully: "I joined one of those MLM companies, GNLD, involved in direct selling of products and recruitment of other sales people. I had thought my life would change and I would be able to support my family financially, judging by the testimonies I was told about others in the business who were earning so much money monthly and getting travel opportunities as bonus.
But as months went by, I found it more and more difficult to get a single downline. All those I spoke to were resolute about not registering. I tried my best to continue using their products as they manufactured cosmetics and health products, but it soon became very difficult for me to afford them. I later stopped buying them and went back to my former regular products.
The money used in registering was a waste and I also regret the money spent on their products because I didn't benefit anything financially."
Notwithstanding Janet's experience however, Mr Sank Ara Tohir, a Ghanian graduate of French and Spanish who told Woman's Own he practically ditched a lucrative teaching job which brought him to Nigeria a couple of years ago for MLM, insisted MLM's are a potential money-spinner.
"This is the best business of the 21st century. Donald Trump, Bill Gates, Warren Buffet are a few of the great names that have benefited from multilevel marketing. In Nigeria for example, I know of at least five state governors in Forever Living. Edo State Governor Adams Oshiomole is a Senior Manager while former Cross River State governor, Liyel Imoke, is a Sapphire Manager.
"I know of someone who gets over N15million monthly as we speak," he said.  "I've spent barely two years in it but as we speak, I earn as much as over N500,000 monthly from it," he boasted while also persistently advising this reporter to join the business for easy, extra income.
Claims of stress-free income
While the claim by most MLM companies remains that they offer the greatest flexibility and personal freedom of time as a business; making other jobs almost unnecessary, the experiences of most of our respondents proved that making money in MLM requires extraordinary time and commitment because success here means strict adherence to the duplication model (continuous recruitment of downlines).
Mrs Morinola Imohe had a remarkable experience. She was a GNLD Director in its earliest days in the country. Imohe had joined the business as an undergraduate in her final year with a registration fee of N4,500 sometime around 1999 and 2000, but is totally out of it today.
"You know, I didn't have any other job when I joined. But I will tell you frankly that multilevel marketing works. One must however be very determined because it requires your time, money and sacrifice. If you can give it your all, you will surely get results.
"GNLD's marketing plan is a two to four-year programme, so, I practically didn't earn any monthly income apart from profit garnered from product sales, for the first two years. My first cheque as a Manager was only N10,000 but as at the time I pulled out, I was already earning 80,000 monthly from the business as a Director.
"The stress however became too much when I gained employment. Also, getting people to register became more and more difficult. I therefore gradually found myself drifting," she said.
Tohir however disagreed. 
"MLM is easy. It depends on the kind of people you have as friends, colleagues and family. I know a lady who qualified for the millionaires club barely six months after registration. The business is neither time-demanding nor stressful; unless you do not have the right people around you who would want to register without giving you stress. That lady earns as much as a million naira monthly now."
'It's up to you'
Buttressing this was Miss Williams, a young lady who claimed she presently benefits from an online multilevel marketing business.
"It's up to you. But just like any other business, if you want to go into MLM, you need to do a feasibility study to that effect. The problem with Nigerians is that we are too greedy to make money overnight, forgetting that every success has a price which must be paid whether you like it or not.
Any MLM business, you want to do must have a product or service that adds value to the end consumer otherwise its fake," she asserted.
Burden of products' sales
Talking about product sales, the constant burden of marketing these companies' products to the consuming public is popularly a major challenge to marketers, often seen as time-consuming and stressful.  This isn't unconnected with the fact that consumers are usually typically skeptical about products with outrageous claims of potency
Debunking this however, Tobir gain explained that MLM isn't particularly about product sales but about downline recruitment which draws the company nearer to the consuming public more effectively. This, he claimed, is as each downline recruited registers by also buying the product— a patronage which continues as long as the downline remains in the business.
"Most of my own company's products revolve around personal hygiene, cosmetics, beverages and health, though all organic. So, each active downline is given the opportunity of accessing these organic products at a much more cheaper rate and at same time living a healthier life.
So, you're paid by the company for helping the company to promote direct sales of their products, not by you engaging in sales. In actual fact, sales earn you personal profits while recruiting downlines earns you impressive monthly income from the company, paid directly into your bank account.
MLM and brand loyalty
A major criticism of the MLM model is however that it has failed over the years to really yield brand loyalty as marketers basically buy, use and market the products simply to earn more points and be eligible for higher levels, but ditch the products once they leave the business line. Janet who pulled out after feeling frustrated is a testimony. Same with Imohe who even went as far as becoming a Director in the business, as, presently, she uses none of the company's products. Unlike before when she religiously used every single item manufactured by it.