By Anayo Okoli
UMUAHIA—IN his effort to open up the State for more investments, Abia State Governor, Dr. Okezie Ikpeazu has promised to construct a 7.5 km access road to link its neighbouring Akwa Ibom State.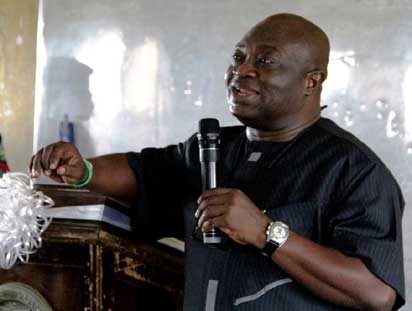 According to Governor Ikpeazu, the road which would be built with cement pavement technology would save motorists from the agony currently being experienced on the abandoned dilapidated Aba-Ikot Ekpene Federal road.
Ikpeazu who announced this while speaking at the Mega Fellowship of the Aba North District of the Assemblies of God Church held at Ukaegbu Road, Ogbor Hill, Aba, branch of the church, told the gathering that he would open up the state, particularly Aba with roads for investments and businesses to thrive.
Ikpeazu who spoke at the event which has its theme as "Evidence of Total Restoration," also announced that his administration would construct 50 roads in Aba and a flyover at Osisioma on the busy Enugu-Port Harcourt road.
According to him, his administration has so constructed a total of 13 roads in Aba while work is going on in others, saying that he would have loved to do more but for challenges confronting him.
He thanked the church for honoring him and pledged not to disappoint Abians.
In a sermon to mark the event, the Aba North District Superintendent of Assemblies of God church, Rev. Prince Kalu Emeaba commended Ikpeazu and assured him that any man who has passion to uplift the welfare of common man would not be forsaken by God.