Olorogun Okiemute Oviri Okwagbe, a political leader and Esama of Ukepedi Kingdom, Delta State, wants Governor Ifeanyi Okowa to help address us the issue of deplorable state of roads in Okwagbe community.
One major nagging headache besetting the people of Okwagbe community in Ughelli South Local Government Area of Delta State is the issue of deplorable state of the roads.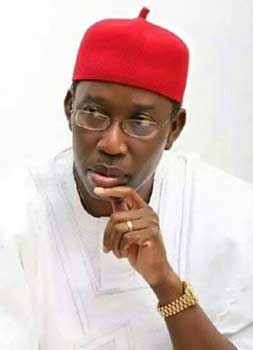 Year in year out, residents are subjected to untold hardship occasioned by dilapidated roads which have seen motorists battling with repairs or replacements of their vehicle parts at huge cost.
The people are saddened that dividends of democracy promised by successive governments during campaigns are yet to see the light of the day in the area.
Okwagbe boasts of a population of about 50,000 residents. With two wards to its credit, the sleepy town is still groping in the dark of gross underdevelopment, yet has remained the commercial nerve centre of Ughelli South.   It is adjudged to have the biggest market in Delta Central.
The community's land stretches from the ever-busy River Niger to the Udu/ECN Road and is connected by a deplorable road that leads in and out of it.
The situation in the community is particularly worse for those who are compelled by circumstances to live there. The bad roads including those of Otor-Okwagbe and Idjogun Road have been abandoned by the Niger Delta Development Commission (NDDC).  Other neglected roads in the community include the Imigbu/Erhobe Road, Orharha main Street road, Edjariovwe Street road, Ejavwe Street road, Okwagbe Inland Road and Akpor Major Road.
Of utmost significance is the Okwagbe Main Road linking other communities in Ughelli South, Udu Local Government Area, Bomadi and Burutu local government areas of the state.
Most of these communities can hardly be accessed by road users during the rainy season and this has particularly made it impossible for most traders and farmers to access the market let alone transporting their produce there for sale. The market that comes up every four days is now witnessing low turn out of traders.
Residents of the community, through self-help, have been responsible for the repairs and maintenance of the major road that serves Ughelli South, Burutu and Bomadi riverine communities.
Motorists that can access Eyakoromor, Ogodobri, Ezebri, Okuama, Omosuomo, Okwemor, Egbo-Ideh, Ophorigbala, Esaba, Otutuama, Otitiri, Iwhrogun, Ofrukama and Otegbo communities and among others, must pass through the Okwagbe main road.
The road was not motorable during rainy season due to flooding, residents living around the bad roads had resorted to using canoe and wooden bridges to cross from one end to the other.
But in spite of the efforts of the inhabitants to keep the roads motorable, their condition has continued to deteriorate by the day because the wooden bridges across some of the canals which were meant to be palliative measures pending government's intervention have been submerged by flood.
I and the people of Okwagbe communities have severally called on the state government to come to our aid, but no assistance has so far come our way in spite of the fact that we are part of the state. We have been abandoned in issues relating to developmental projects, but during elections, politicians will come to the community to campaign and seek for our votes.
In fact it is almost a hopeless situation because travelling on the main road has been hellish for residents, especially those who work in the city. Whenever it rains, motorists would park their cars and trek home or to Oginibo Bus Stop along Ukpedi Road. Even landlords are no longer finding things easy because people are not coming to rent houses here anymore. Anytime there is an emergency security situation, police cannot access the area because of the bad road.
I and the people of Okwagbe are appealing to Governor Ifeanyi Okowa, Senator Ovie Omo-Agege, representing Delta Central, Solomon Ahwinawhi, representing Udu/Ughelli Federal Constituency and Comrade Reuben Yakubu Izeze, member representing Ughelli South Constituency in Delta State House of Assembly, Niger Delta Development Commission, NDDC, and others government agencies to come to our aid.
I am asking them to make sure that roads that connect streets and major roads in Okwagbe  are tarred to ameliorate the suffering of the people.