By SIMON EBEGBULEM, BENIN CITY
Mr Osaro Onaiwu is the governorship candidate of the All Progressives Grand Alliance (APGA) in Saturday's election in Edo State. In this interview, Onaiwu says he will defeat his opponents and succeed Governor Adams Oshiomhole.
Excerpts: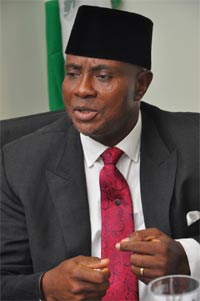 How has your campaign been?
Very well and I am so happy. APGA model is about the grassroots, we believe in grassroots development. So our campaign has been door-to-door, community-to-community and it has been wonderful. The response has been encouraging because they have not seen other candidates coming close to them like us. Again, you have seen the Igbo embracing me, adopting me as their candidate and, with their support and others, I have won already.
Are  you not scared of the dominant parties, the PDP and the APC?
I don't want to accept that the APC and the PDP are the popular parties. Human beings constitute  the structure. Edo people have looked at the two political parties. They gave PDP a chance in 1999 till 2008 and now they have given the  APC opportunity and they have seen their performance. Now they want APGA because they have seen what APGA has done in Anambra State. It is the grassroots  model we are bringing to Edo  and they want to try us. The PDP and the APC lack vision and that is why they don't know what to tell Edo people. What are they bringing to the table?  For us in APGA, we are only interested on what our people want. PDP only want, pepper soup. But  in APGA, we are looking at how to improve the health of our people, infrastructure, tourism, education  and security to some extent. We have gone round the wards and local governments and I can tell you that we know the problems that Edo people are facing. It is not for us to come a rent crowd and start shouting we will build schools and hospitals. We had to go to the communities to see what they need.
What is new that  APGA wants to bring that the PDP and the APC have not given Edo people?
The race is between  APGA and the APC.  PDP  is out because they don't have a candidate because they have two candidates and the people don't know which of them they are  voting for. You will also be making a mockery of the situation if  you mention PDP because of course you know how PDP killed this state in their ten years of being in power. Now Matthew is campaigning and Ize-Iyamu is campaigning; they are not in the race. PDP is paying for its  sins in Edo. The race is between me and the APC. APC is currently in government and APGA wants to take over and replicate what the Anambra  government is doing and even do more for Edo people. PDP is just running round the state, making noise. For us, the major issue in Edo Central is water, and the women talk about markets and  health centers. In  Edo North, we can see youths restiveness which we will deal with. In some parts of Edo South  the communities have no roads, and there is youth unemployment. We will deal with all the issues.  But I must let you know that the present government has done  its  best in the area of  road construction. They have done some schools. But the key areas we are going to look at is how do we improve on  rural  road construction in Edo so that our people can transport their farm produce to the urban areas.  APGA government will take Edo to the next level.
Are you envisaging violence?
I am not a soothsayer.  I keep telling the people that it is God that will produce the next governor and not man. But I know that  the PDP and  APC are desperate. They are dreaming. But I know Edo people are wiser now. The people have tested the two political parties; now they are looking for an alternative which is APGA. So, come September 10,  the people will disappoint the two political parties and vote APGA.
People have talked about inconclusive elections. What is your take?
When you say an election is inconclusive, it is not caused by INEC; it is caused by the political parties. When there is violence, ballot box snatching, do you expect INEC to accept  the result  coming from such election? The problem is the political parties and that is why I am warning the PDP and the APC to bury their gangsterism and allow us have a peaceful election. I also want to appeal to Edo people to shun violence and parents must not allow their children to be used as thugs. You cannot kill people because you want to be governor.
Who is your god father?
My major god father is God and my second god father are the people of Edo because I got to this position today, not through god fatherism. Since the age of 24 when I was made Special Assistant to Dr Samuel Ogbemudia, nobody can say I introduced him  to Ogbemudia or to Saraki that made me Director General of the Governor's Forum. So I believe that after God, Edo people are my major constituency.