By Rotimi Ojomoyela
Ado-Ekiti-Ekiti State House of Assembly on thursday prescribed six months jail term for any herdsmen who allow his cattle, sheep and goat to graze on undesignated land for ranches in Ekiti.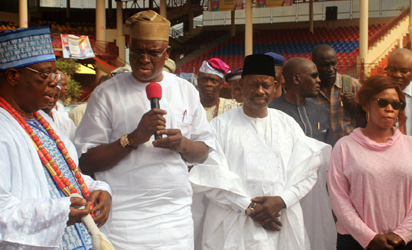 The bill which was unanimously passed at the plenary sitting of the Assembly, seek to regulate public grazing in the state.
The passage of the bill followed the submission of report of Joint Committees on Agriculture and Environment by its Chairman, Mr Ayodele Fajemilehin, to committee of the whole House.
The Speaker of the House, Mr Kola Oluwawole, who presided over Tuesday plenary said the bill would now reduce the incessant clashes between farmers and herdsmen in the state.
oluwawole said "if the bill is eventually accented to by the governor, it will now become crime for any cattle, sheep and goat to graze on undesignated land for ranches in Ekiti.
According to the new bill tagged," Prohibition of Cattle and Other Ruminants Grazing in Ekiti, 2016″, anyone found violating the bill upon conviction shall be sentenced to six months in prison without option of fine.
Others included, "The Governor shall by an order designates land in each of 16 Local Government Areas in the state in respect of which Cattle or Ruminants may be permitted to graze.
The rest are," No person shall cause or permit any cow, oxen, sheep as well as goat under his or her control to graze on any land in which the Governor has not designated as ranches" among others.
The bill forbids movement of cattle by herdsmen and owners of goat in the Ekiti after 6 p.m.
"No cattle or other ruminants shall by any means move in the night, movement shall be between 7 a.m and 6p.m".
Meanwhile, the Assembly observed a minute silence for the four World Bank officials who lost their lives when their boat capsized at Egbe Dam in Gbonyin Local Government Area of the state.
Chief Gboyega Aribisogan, a member representing Ikole Constituency 11 had earlier called the attention of others members to the mishap, describing the situation as putting the state into mourning.