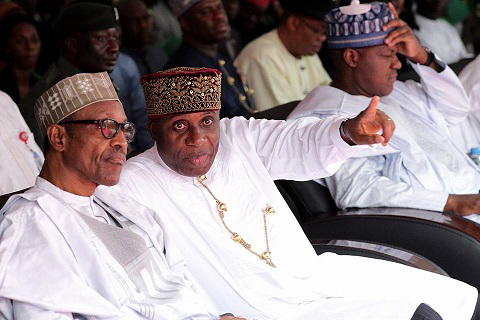 President Buhari and Minister of Transport, Rotimi Amaechi during the commissioning of the $1.457 b Abuja-Kaduna rail
By Favour Nnabugwu & Levinus Nwabughiogu
ABUJA—President Muhammadu Buhari has expressed delight that train services were back in Nigeria as was the case in the 80s.
The President, who spoke while commissioning Abuja-Kaduna rail track, which also coincided with the flagging off of  Abuja-Kaduna at Idu Industrial layout, Federal Capital Territory, Abuja, yesterday, said the project would impact on the lives of  Abuja residents as well as Kaduna State.
He said the rail project, which was initiated by the previous administrations but completed and delivered by his government, was in line with the agenda of All Progressives Congress, APC.
The President said:  "I am delighted to be here today to commission Abuja-Kaduna rail track and flag off the Abuja-Kaduna train services (Passengers & Freight) on Nigeria's first ever Standard Gauge Rail track to go into operation.
''This project was conceived by a previous administration, started by the last government and I am pleased to complete and commission it.
"It is on record that between 1963 and early '80s, Nigeria had a vibrant rail system which conveyed agricultural produce, livestock and solid mineral resources to Lagos and Port Harcourt sea ports from where they were exported to other parts of the world.
"It is our vision and hope that those good old days will soon be back with us and, indeed, in a more prosperous way, with the restoration of rail transport system which today's occasion symbolises.
"The construction of  Abuja-Kaduna Standard Gauge rail track commenced in 2009 and happily, 16 years after, we are on the threshold of presenting to Nigerians a Standard Gauge Railway Train Service that will be safe, fast and reliable.
"The Abuja-Kaduna train service will provide the much needed alternative transport link between the Federal Capital Territory and Kaduna State, a corridor which has a huge potential for industries, agricultural activities and a growing labour force.
"Completion and commissioning of this project is, indeed, in keeping with our vision of bringing about the desired change to make life easier for the generality of Nigerians through the development and provision of the necessary social and physical infrastructure."
While commending the Minister of Transportation, Rotimi Amaechi, for a job well done, President Buhari said most state capitals would be linked to the gauge rail.
Continuing, the President said:   "I wish to also reassure Nigerians that due attention will be placed on pursuing the 25-Year Strategic Railway Master Plan which is aimed at rehabilitating the existing 3,505km narrow gauge rail line and developing and constructing new standard gauge rail lines across the country."
"As we celebrate the symbolic return of rail service today I wish to reiterate the commitment of this administration to pursue with greater vigour and determination rehabilitation and construction of other rail lines, including the major Lagos-Calabar and Kano-Lagos lines.''
In his opening speech, the Minister of Transport, Mr Rotimi Chibuike Amaechi, who undertook a test-ride of the train service from Idu Main Station to Kubwa in Abuja with Kaduna State governor, Mallam Nasir El-Rufai, Senate president, Bukola Saraki, and FCT Minister Abubakar Bello, among other dignitaries, said the rail line would impact on housing as the poor would be able to live in their houses in Kaduna and come to work in Abuja.
He said:  At the same time, it will impact on agriculture and the economy as agricultural produce are conveyed from Kaduna to Abuja at much cheaper rates."
"Transportation is also provided for majority of Nigeria who live between Kano and Abuja at a cheaper rate. I hope that when the Kaduna-Abuja road is maintained, it would last longer as heavy cargos are now conveyed by rail.
"We recall that the contract for Lagos to Kano railways was awarded by President Olusegun Obasanjo, partially executed by President Goodluck Jonathan and completed by President Muhammadu Buhari. Under the directives of President Buhari, the stations, the signalling, the communications and part of the tracks were completed by this administration."
Also, Kaduna State governor, Mallam Nasir El-Rufai, said the vision of the Obasanjo administration at the time was to have a brand new standard gauge rail system for Nigeria, running from north to south, east to west, and covering the entire country.
"The first phase was the Lagos-Kano rail at a price of about $8billion if I recall and it was supposed to be completed in four years.
''Sadly our successors did not fight, understand or share in this vision and the project was suspended and the result is that 10years after awarding this contract we are standing here today to commission a fraction of that project."
"As governor of Kaduna State, I am grateful and gratified that the Abuja-Kaduna segment of the Lagos-Kano rail system is being commissioned today. The impact of this rail line to Kaduna cannot be easily quantified in terms of social and economic benefits.
It would be recall that that an agreement was signed between Nigeria and the CCECC of China for construction of a standard gauge Lagos-Kaduna rail line, costing $8.3 billion.
On his part, the Managing director of CCECC, Mr Jack Li, said the construction company attached  great importance to the actualization of this first section of Nigeria railway modernization project.
"During construction, more than 1,000 sets of machinery and equipment were mobilized, over 5,000 jobs created during the construction period and during its operation. More than 1,000 permanent jobs were created, additional to over 10,000 job opportunity that will come as a result of this train operation," he said.