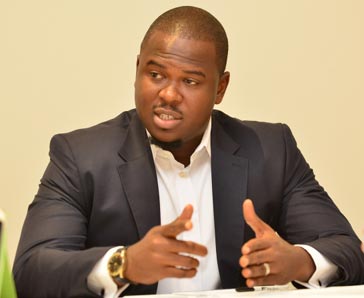 Uzonna Izugbokwe
• Nigerian is priority market in Africa
Assuring on how best to build safer cities with latest smart public safety devices, software applications, infrastructure and virtual reality-enabled command center concept, -Uzonna Izugbokwe, Ieads channel sales for Motorola Solutions in English Speaking West   Africa in   this interview with Technology Journalists during the training and engagement sessions for Channel Partners, spoke on how best to use two-way radio communication solutions to save cost, and make businesses more efficient. Stating that Nigeria is a priority market for Motorola, he warned on the dangers of fake products, adding that   two-way radio communication devices   could be used to reduce security challenges across the country.
Excerpt
 Our core focus
Our core focus as at today is on two-way radio communication for commercial market and as well as the public safety. The mobile phone business was a successful business unit of Motorola, but at some point, a purely business decision was made to focus solely on the two-way radio communication business, and that's where we are today.
Today, you are familiar with our walkey-talkeys, going across regions of several industry verticals from hospitality to public safety, entertainment, religious services, security services and a whole range of other industries. This is our focus now and this is what we offer as Motorola Solutions – two-way radio communication solutions.
 Building local knowledge with partners
Motorola Solutions continues to build local knowledge and understanding in the Nigerian market, working with dedicated partners whilst supporting their growth. We are committed to providing best-in-class products, solutions and services to the Nigerian market by building upon our over 50 years' experience of doing business across Africa.
 Product offerings
We have several product offerings for the African market, but in this instance, I will speak specifically about the newly launched Wave Solution. We have a huge usage of smart phones in Nigeria. Just take a step back, you do understand the difference between the two-way radio and mobile phones right? Because, with the mobile phone, you need a minimum of 15 seconds to be able to establish connection with who you are trying to reach, but with radio, it is instant. The minute you push the  Push-To-Talk, (PTT),  function, you are instantly communicating which encourages effectiveness and efficiency.
What we have done with the Wave Solution is leveraging on the fact that there are smart phones in the hands of 80-percent mobile phone users; we have created solutions that enables the smart phone to have a PTT function which exists only at the radio prior to dialling.
We have a cement manufacturer who has 3 plant where there are about 650 users actively utilizing the Wave Solution. How are they able to do this? Simple. We have about 150 radios, but with more than 90% of his staff owning smart phones, we are able to integrate same on the radio network, without having to give every single user in that factory a radio. So you can see that the Wave Solutions enables them communicate effectively and run more efficient operations.
Essentially, what we are doing with the Wave Solution is  leveraging on already procured devices that have no direct benefit to Motorola. All you need to do is to have the Wave Application running on it.
Another beautiful thing on the Wave Solution is the infrastructure. It does not have to be your own; you can leverage on an existing infrastructure that may be domiciled elsewhere in the world. All you need is an internal protocol process to create the connection. That way, businesses are saving money, because some of the radio cost us much as 500 dollar each, this is a solution that is helping you not to make huge capital expenditure on procuring additional radio for your infrastructure.  Our solutions are tailor-made for any environment, it doesn't matter if it is the army or health care, religious organizations.
Regulatory environment
In every product and solution we have today, there is adequate documentation from the regulatory authorities. We have certification called the SONCAP to the declaration of conformity which is what is required for each and every device that is use here in Nigeria.
Challenges
The problem is the fake and the grey market which is a global issue. We have put in place plans to fight grey market. We have campaigns. We are sensitizing people. We have been telling people the benefits of procuring from the real channels, benefit of procuring original devices, the warranty, after sale support and most importantly, the effectiveness of what you are buying, you are sure it is original that have been designed to deliver what you procured it for. We give 12 to 24 month warranty depending on what you are buying.