Sokoto—THE Sokoto State Government has concluded plans to employ no fewer than 10,000 qualified teachers, the state governor, Aminu Tambuwal has said.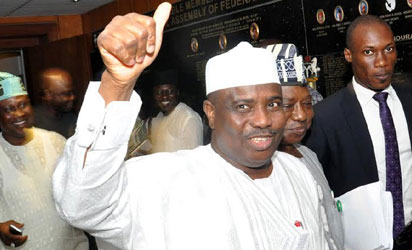 Governor Tambuwal, who made the disclosure yesterday at a media chat to mark the 2016 Democracy Day in Sokoto, said this was part of the recommendations in a report of a technical committee he earlier set up to advise the government on the education sector.
The governor said the committee was headed by Professor Riskuwa Shehu, the immediate past Vice Chancellor of Usmanu Danfodiyo University, Sokoto.
According to him: "'The state government set up the committee as part of the measures to improve the standard of the education sector in the state. According to the committee's report, we are short of no fewer than 10,000 qualified teachers in the state.
"We will do everything possible in moving our standard of education forward in order to guarantee a productive citizenry in the state. The government will also cover the training and retraining of teachers in line with the global trend of making education a priority.''
He stated that the state of emergency on education already declared in the state would remain until the government achieved the desired standard.
Tambuwal also noted that the committee had recommended the construction of additional 6,000 classrooms in the state, saying the government would implement the committee's report to generally improve the education sector in the state.
He called on the people of the state to always complement the efforts of the government in funding education at all levels.
Tambuwal urged the people to jealously guard all ongoing projects as well as assist the government in their routine
The governor said the state would collaborate with investors in Europe and China to improve power supply in the state.
According to Tambuwal, the foreign investors were going to focus on the use of solar energy and wind power to generate more energy for the state.
He said: "Already, five companies have shown interest in the proposed project and discussions are on with them. The issue of power is key and fundamental to the sustenance of every society, as it can boost socioeconomic development."
The state's independent power project has also reached between 80 and 85 per cent completion stage and it will provide about 38 megawatts upon completion''.