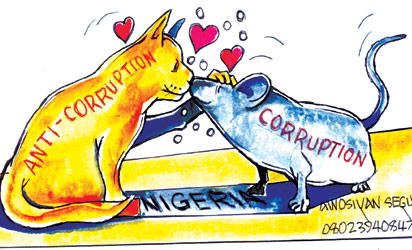 By Princewill Ekwujuru & Dotun Ibiwoye
An anti-corruption campaign project, Not In My Country, created and produced by Akin Fadeyi, has given a graphic detail of how Nigeria was under-developed by corruption, as it tackles the menace from grassroots.
The campaign, which is targeted at youths in primary and secondary schools as a build-up to eradicating corruption, has created 33 film episodes of one minute each showcasing traces of corrupt practices in all facet of dealings and featuring some seasoned Nollywood actors as Afeez Oyetoro, Saka and Ganni Olowo.
Publisher and Founder, Businessday, Mr. Frank Aigbogun, while speaking at the media launch of 'Not in my country' campaign as keynote speaker on the topic Impact of Corruption on Business and on the Masses, gave a graphic details of how corruption had affected the development of various sectors of Nigeria's economy.
Aigbogun, who was represented by Mr. Gbenga Adefaye, General Manager/Editor-in-Chief, Vanguard Media Limited, said because of corruption, Nigerian had been bruised, maltreated, diminished and labelled as the bad example of the Dutch disease.
He stated further that corruption had led to "infrastructural deficiency, no fuel, no water, faint hope and despondency."
Frank said: "The more anti-corruption commanders fight corruption, the more hydra-headed it becomes.
"These fights have to be fought head long because of the impact it would have on the unborn and the present children."
Otunba Gbenga Kareem, Head, Unique Group of Schools, who talked about the role of parents in child upbringing, stated that parents had to instil integrity in their children.