Abuja – The Minister of Science and Technology, Dr. Ogbonnaya Onu,Thursday, said all good creative ideas will be commercialised henceforth,.
Onu stated this when he paid a courtesy visit to the National Chairman of the All Progressives Congress, Chief John Odigie-Oyegun in Abuja.
According to him, the ministry is working hard to create a consciousness on the relevance of technology to the society.
"No nation has been great without science and technology. Many people didn't appreciate or know the relevance of science and technology to societies.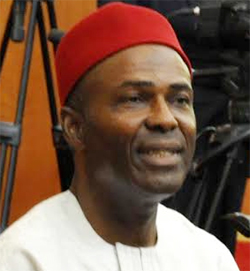 "We are working very hard to ensure that the consciousness is created. We also want to make sure that any good idea must be transformed into products and services that the market place will benefit from.
"It is only when you do this that you create jobs, reduce poverty, grow the economy and be a producing nation.
"It is very sad situation where our wood is taken out only to bring back toothpicks or crude is taken out only to bring in petrol. It should not have happened."
He urged everyone with creative ideas to go to the ministry to register it and cited an instance where a young unschooled man built a drone.
He said all ideas would be processed and, unlike before, encouraged.
"For instance, there is a high density nutrient in biscuit, for those between five and six years that if taken in a certain quantity will give one third of the daily nutritional value: protein, carbohydrate etc.
"If it were before, it will end up in the laboratory but today Nasco foods entered into a memorandum of understanding between the ministry and themselves and the implementing agency.
"Many more will follow in this direction and it is the first time since the ministry was established that a food item or product of research will be commercialised.
"So, we are going to commercialise all our research findings", he said.
He pointed out that a weak link in this chain would be that between the universities and the research institutes.
"The two bodies ought to have a strong link so that one can benefit from the other.
"So, while we work on research institutes and industries, we are also working on research institutes and the universities so that in the end they work as a family.''
He added that they will then pool their resources together and channel it in a way it would be most effectively utilized for the economy.
He decried the fact that for 20 years, the nation kept merging the ministry with others like agriculture, education, industry saying big economies like Dubai, China, Singapore the U.S thrived on technology.
"All over the world no nation funds science and technology through budget. When people go to Dubai they marvel by the sort of research they are doing there.
"If you look at 2016 global competitiveness index, Dubai is there, Singapore is number two. They invest heavily in technology, China too.
"America invests 3.2 to 3.5 per cent of its GDP in technology every year.
"Our funds will also help not only science and technology but research institutes in the private sector, universities, the informal sector and others."
The APC Chairman thanked Onu for intimating the party with the ministry's activities, adding that the visit was an eye opener and urged all other ministers to do same. (NAN)