By Omoh Gabriel
Nigerians' taste for foreign goods has been the bane of the economy. Many prefer goods and services from abroad to locally produced  ones even when the foreign ones are of lower quality. This has had a serious effect on the nation's reserves and compounded the unemployment situation in the country. The continued depletion of the external reserves of the nation and the ever growing army of unemployed youths is partly a result of this trend that has bedeviled the Nigerian economy.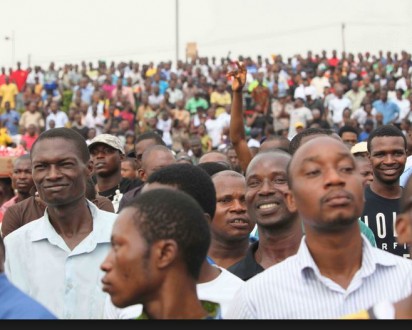 Available data show that the trend of high importation of goods and services out- stripping export has continued despite efforts by government at diversifying the economy. Latest data from the National Bureau of Statistics for the 2015 calendar year shows that the country's total trade was recorded at N16.4268 trillion, amounting to N7.2516 trillion or 30.6 per cent less than the total trade value recorded for 2014.
This development arose largely due to sharp decline in the value of exports; from N16.3040 triillion in 2014 to N9.7288 trillion in 2015, a decline of 40.3 per cent. A decrease of N676.4 billion or 9.2 per cent in the total imports in 2015 helped to mitigate the declining trade balance, which stood at N3.0308 triillion, N5.8989 trillion less than the value in 2014. The crude oil component of total trade decreased by N4.9459 trillion or 41.6 per cent as against the level recorded in 2014
In 2015, imports classified by Broad Economic Category revealed that "Industrial supplies ranked first with N1.8241 trillion or 27.2 per cent. This was followed by "Capital goods and parts" with the value of N1.5167 trillion or 22.6 per cent, and "Fuels and Lubricants" with the value of N1.2107 trillion or 18.1 per cent. The value of Premium Motor Spirit stood at N288.6 billion. Nigeria's imports by Economic region revealed that the country consumed goods largely from Asia with an import value of N2.8335 trillion or 42.3 per cent. The country also imported goods valued at N2.5016 trillion or 37.3 per cent from Europe, and N871.3 billion or 13.0 per cent from The Americas. Imports from within the continent of Africa totalled N420.4 billion or 6.3 per cent, while imports from the region of ECOWAS amounted to N213.8 billion.
On an annual basis total exports from Nigeria stood at N9.7288 trillion at the end of 2015, representing a drop of N6.5752 trillion or 40.3 per cent over levels recorded in 2014. Notwithstanding a steep decline in crude oil exports by N4.9459 trillion or 41.6 per cent in 2015, the structure of Nigeria's exports is still dominated by crude oil exports. The contribution of crude oil to the value of total domestic export trade amounted to N6.9453 trillion or 71.4% in 2015. Exports by Section, revealed that the largest product exported by Nigeria in 2015 was "Mineral products" which accounted for N8,574.3 billion or 88.1%.
Exports by continent, showed that Nigeria mainly exported goods to Europe and Asia, which accounted for N3,866.6 billion or 39.7% and N2,945.8 billion or 30.3% respectively, of the total export value for 2015. Furthermore, Nigeria exported goods valued at N1.4004 trillion or 14.4 per cent to the continent of Africa while export to the ECOWAS region.
Sadly, instead of Nigeria's non-oil export rising, it has fallen. Instead of import bills dropping, they are rising, a scenario that portends danger for the economy. For too long, Nigerians have failed to recognise that the nation is in the wrong business by exporting crude oil and importing fuel and petro-chemicals, exporting iron ore and importing steel, exporting alumina and importing aluminium products, exporting raw cocoa and importing processed cocoa products, exporting cotton and importing garments.
This is bad business. Foreigners and economists have always bemoaned the much touted economic growth because it has not reflected on the life of the average Nigerian.
Former Minister of Agriculture and Rural Development, Dr. Akinwunmi Adesina, had said that Nigeria expends N1 billion daily on rice importation, translating to N360 billion annually. Besides, N217 billion is equally spent annually to import sugar while fish importation gulps N97 billion every year.
As Edo State Governor, Adams Oshiomhole said, no country desirous of making economic progress relies on importation. Nigeria has no business importing rice.
Nigeria is simply in a mess because of the kind of leadership imposed on the country. When serious nations are discussing how to move forward, Nigeria's supposed leaders are counting how much they have in their personal bank account or buried in their compound. At international conferences, while others are negotiating deals that will bring succour to their people, Nigerian leaders are looking for opportunity to steal from the nation's treasury. This is the root of Nigeria's leadership problems.
Nigerian leaders are simply lazy and rent seekers. This is the basic problem; bulk of the nation's import is for consumption instead of capital goods that will aid further production. There is something fundamentally wrong with Nigerian leaders and Nigerians. If anything, this is the time for a rethink.