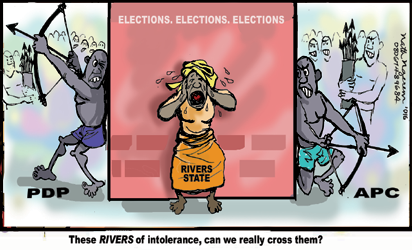 THE run-up to the federal and state legislative election re-runs in Rivers State had been marked with much bloodshed running up to the dozens. So it was not totally surprising that last Saturday's elections were also characterised by much violence.
At the last count, at least five persons, including a member of the National Youth Service Corps (NYSC), Samuel Okonta, had been killed.
We are especially concerned that since the advent of the Prof. Mahmud Yakubu- led Independent National Electoral Commission (INEC) most of the re-run elections have either been marred by violence or officially declared inconclusive.
The outcome of the Kogi governorship election remains a sore that is still a challenge to the judicial authorities. The Bayelsa governorship election was turned into a theatre of war, and like the situation in Kogi, required a re-run to acquire a modicum of acceptability.
The problems we dare say are not only centred on the conduct and competence challenges of the Yakubu-led election management body. The provision of security, which is a service rendered by the Federal Government, has been remarkably uninspiring particularly in Bayelsa and Rivers States, where the military, Police and other security agents were massively deployed.
The failure of the security agencies to secure the electorate, INEC officials and ad-hoc staff, law-abiding citizens and electoral logistics emboldened some politicians to violate the processes.
It is a sore point to note that perpetrators of election violence are not prosecuted in Nigeria, a fact that has continued to sustain the cycle of electoral impunities in the country. Had the security agencies made strong examples of the perpetrators of the electoral violence and their sponsors it would have helped to deter the high rate of bloodshed and reign of hoodlums during elections.
We are disappointed in the roles played by the leadership of the two main political parties – the People's Democratic Party (PDP) and the All Progressives Congress (APC), particularly Governor Nyesom Wike and Minister Rotimi Amaechi, whose utterances and conducts aggravated the situation.
We also fault the continuing hesitation of President Muhammadu Buhari to name the full complement of National Commissioners for the INEC.
By failing to name all the Commissioners, the President has inadvertently denied the electoral body the full complement of human resources and personnel required to articulate and drive policies and programmes towards more credible and acceptable elections under his watch.
We call on President Buhari to immediately fill all the vacancies in the Commission and take adequate steps to address the security gaps that have now soiled our electoral culture which, during the President Goodluck Jonathan/Professor Attahiru Jega years, had come to be reckoned with as among the most promising in Africa.