Asks Buhari to probe pre-Jonathan regimes for alleged corruption
By Olalekan Bilesanmi
Senator Muhammed Ndume, APC, Borno, is the Senate Majority Leader. In this interview, he shares his thoughts on national issues ranging from  his controversial  advice that men should marry more than one wife, to the  electricity tariff, the padded national budget and the devaluation of the naira.
The National Assembly was to pass the budget in February but for the  discrepancies discovered in the estimates. Now the parliament has extended the passage to March. Does the new date still stand?
Yes. The National Assembly was to pass the budget in February, but we are likely to pass it now before the end of  March. The delay, as you rightly pointed out, was essentially because there was padding by some individuals and, therefore, due process must be  followed. And we have to look at the budget microscopically to pick out those anomalies before it can be said to be a credible one. Let me also add that we are working on the budget collectively, that is both the National Assembly and the Executive, as led by the Ministers of  Budget Planning and Finance. This is the first time  government is doing a budget that it is owning up to. And we hope that if the President approves  the budget, it would be diligently implemented to the zero level. The President has asked us to do our job diligently and that is what we are doing, which, of course, necessitated the shift in the date of the  passage of the budget. And we are working to meet up with the deadline before the end of month.
The President has come under criticism on his frequent foreign  trips.
I don't think the President's trips are unnecessarily frequent. The President is not like a chief cook such that, without him, people would go hungry.  The President of a country is supposed to be ruling a country with institutions running without him physically being there. It is like an aircraft which can be on auto pilot. This President is not a man that privatizes or customizes government because the previous government made it so, such that once the President was not in the country, all institutions shut down. Is it not in  this country that when President Buhari was away for one week, he handed over governance to his vice?  When was the last time such a thing happened? This President connects with his cabinet and government wherever he is around the world. In this digital age, a President can operate from any part of the globe, running his government. I think majority of Nigerians are is in support of the President travelling, because the visits are beginning to yield results as exemplified by the number of investments coming our way and  Presidents of other countries are reciprocating the gesture. The image of the country is improving now. He goes everywhere to sign bilateral agreement. His invitation by the G.8  countries is yielding results as some of the members have pledged their support in the fight against insurgency, and this is because the President took the country's case to these people. But if he just sits down here asking for support, how can that work? I  think going by what we have seen so far,  the President should travel more.  The President, anywhere around the world, can look through papers and sign them, especially where his signature is required. All that is needed is mail to him, look through, sign and return. There is really no big deal that he is travelling. I think those suggesting that are still living in the analogue age. Things have since changed.
President Muhammadu Buhari said he is yet to be convinced on why the naira should be devalued. Do you share his mindset?
I totally support the President in that regard. Naira must not be devalued. There is an official window which has pegged the official rate at 197 and there are conditions for the dollar to be sold at the official rate ares there.  You know the Bureau De Change, BDC, segment of the sector was shut down because operators demand was becoming astronomical.  Even then, some people were doing round tripping, money laundering and because there was a gap between the official rate and the black market rate, everybody was seeking for the BDC license. I think the President's action in this regard is necessary. The dollar coming from our crude has gone down drastically and the demand for dollar is astronomically high. So, the demand and supply forces are playing out. I am with the President on that. I think our economic experts should come out with solutions not castigating the President. I don't change dollar because I don't have it. I only have Riyadh from  my  Saudi-Arabia Umrah trip. It is only those who need dollar that are keeping it especially for commercial use. I am a local person to the core. Any imported product you see me use are mostly bought in naira here in the country. I go to the market, if it is too expensive, I leave it. I don't travel . My children are doing their post-graduate courses abroad, and you know that school fees have nothing to do with the  forex issue because if you have a genuine demand, you can go through the Central Bank of  Nigeria, CBN.
The  Senate recently insisted that the electricity tariff hike proposed by the DISCOS should be suspended as it was arbitrary and that there were no consultations before the announcement. Can you expatiate on this?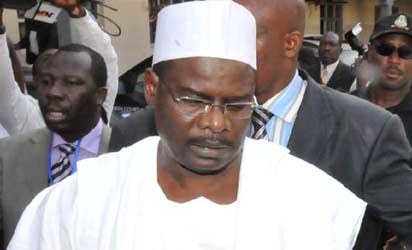 There were no adequate consultations and there was no reason  they should increase the tariff up to 45%. It is like they were taking advantage of customers for something that belongs to us all, because I believe they were given these companies. Left to me, these companies should be taken back because the process of the privatization  was faulty. During  the debate of the motion on the floor of the Senate, I told my colleagues that even though the price of diesel is high, I still prefer to  use it because I know I got value for money. But these people, they charge for  what you don't use. In other words, I am paying for darkness. By the time the companies were taken over or bought as you  put it, the Federal Government had  invested  so much into the companies. Not only that, they were also given loans  by the CBN based on the fact that it would improve their service, yet the service is not there and yet we are paying. Now, they said they want to increase tariff. For the service not rendered?  I think government should regulate the sector more . The Nigeria Electricity Regulatory Commission, NERC, should do more  than they are presently doing. What it is like to me is that NERC has betrayed the Nigerian trust and confidence. I don't think they deserve any increment now. Increment should be in relation to the service rendered, not increasing tariff for the service not rendered. I  want to commend the efforts of the NLC; I am joining them to protest this arbitrary increment. They got these companies at give away prices, and yet they still want to rip off the customers.  That will not be accepted. Has power improved? No . The power generation itself before and after it was bought over, is the Federal Government not supporting them financially? I have  challenged them on that before that they should show me what they have since put into the companies since they were taken over. I am yet to be proved wrong.
Insurgency appears to be gradually winding up as the Army is intensifying its onslaught against the terrorists?
The Army established the Motor Bike Battalion so that it can rout out the insurgents. Now, it has reopened some of the closed roads in the North-East which hitherto were impassable due to the activities of the insurgents. The roads include Maiduguri-Bama Road, Damatu-Bujuba Road, Maiduguri-Mongunu Roads. In fact, an Army division has been set up in Damaturu. I think the Army Chief of Staff is still on ground there in Maiduguri. A Theatre Commander has also been appointed . All the efforts are yielding results. People now, because of the relative peace restored in most of these areas, are rearing to go back home. For example, in my Local Government Area, we are making efforts to create transit camps in the local government headquarters so that people, from there, can  go to their villages and see how they can begin to live normal lives. The issue of welfare, apart from what the state government is doing, the National Emergency  Management Agency, NEMA, is also doing their part. Really, there is hope; there is light at the end of the tunnel for us in the North-East because relative economic activities are beginning to pick up.
The Federal Government anti-corruption drive appears targeted at the opposition. Why only the opposition, why is it being selective?
The President is not being selective.
Has any  All Progressives Congress, APC, member been arrested for corruption?
Even in the Senate, (Senator Ibrahim) Goje is in court.
That was before this government came?
If the government is not committed to fighting corruption, it would have stopped it. (Senator Ibrahim) Yerima was in court recently. I am in court. Jafaru Isa was arrested too. However, it is like some of us are missing the point.  When the opposition was in power, money meant for the welfare of Nigerians was siphoned by members of the ruling government; now that they are being called upon to answer for their deeds, you are saying it is a selective prosecution. Would the government come after you, for example, if you never partook in any action of the past?  What is being addressed now is the money shared by the former  National  Security Adviser, NSA during the last government. Would they have shared the money to members of the opposition? Of course not. They shared it among themselves. So, it is natural that those who participated in it are called to book. President Muhammadu Buhari said it to my hearing, not that they told me or I read about it some where, I was there when he was saying it that even if it is his son that is involved and you are convinced with the evidence  against him that he tampers with public funds, government agents should arrest him; that they should not come to him, they should do their job. He said this to the Economic  and Financial Crimes Commission, EFCC.
Let me also tell you this, in case you didn't know. Dasuki (embattled former NSA) is related to President Buhari. Dasuki is married to the daughter of  Buhari's uncle.  So, when somebody is married to your relation, is he not related to you? Again , these people arrested, until proven guilty by court, they are innocent."I have said it before  and I will repeat it; if we want this fight against corruption to achieve the  desired results, then, the agencies responsible; if fighting it must be proactive. That is, if they noticed that, for example, a salary earner whose  earnings cannot buy more that  Peugeot and he is driving a Ferrari, should  be questioned to know the source of his wealth. If it is a gift,from who and  for what?  Now , when you are arrested, the law says the prosecutor has the burden of proof, whereas it should be the other way round. When your property is seized, you the accused should prove the  property belongs to you. If I, the Senate Majority Leader owns a big  plaza, for example, the onus should be on me to prove that I legitimately acquired the property. These are some of the ways by which government can fight and reduce corruption in the system.
There are hues and cries about your advice that the Senate President, Senator Bukola Saraki, and other men should should marry more than one wife. What brought about the advice?
I stand by that statement. I stand by what I said. This is not a religious matter. So,my view has nothing to do with religion. There are some societies whose cultures permit more than one wife. So, what I am saying is not about religion. I am speaking on moral grounds. If you cannot tell your wife that you have a girlfriend outside, it means what you are doing is wrong, and that is a moral issue. However, those who are criticizing me, especially the men, are hypocrites.
A lot of men who claim they have only one wife also do have chain of girlfriends. So, who is deceiving who? Which is more expensive to maintain between a wife and a girlfriend? If a lady is worthy of being your girlfriend, why is she not worthy to be your wife? That is my point. Instead of you having girlfriends here and there and in every part of the country or the world, why not have more than one wife and take them  wherever you are going. The greatest love you can show to a woman is marriage. Some of the people castigating me said what I said was right but I should not have said it in the public. So, where could I have said the truth if not in the public? Some said, particularly International Federation of Women Lawyer, FIDA that I was trying to equate women with sex object. No, I could not have intended that. We are not talking of any sex object.  I never said anything about sex.  I was talking about marriage.
All I am saying that men should not treat women as use and dump objects. Men should show more care to women by marrying them rather than keeping them outside their homes.  In those days, any child outside wedlock would not inherit anything from the parents. And there are many of such children in our society today. We can avoid it if the men can do the right thing and that is by marrying these ladies legitimately. Those women castigating too, would they have wished their sisters are left unmarried? I am proud that I have two wives. No girlfriend before, now and never would there be. I have been married now for more than 23 years. I am happy with my two wives.
Marrying more than one wife is not compulsory. I am not forcing anybody. It is my own opinion which I have the right to express. It is not everybody that would marry, how much more having more than one wife. That is why Jesus Christ never married. He never compelled anybody to do same with him. So, I am not compelling the men that they should marry more than one wife. All I am saying is that instead of having girlfriends, some have more than 10, why not just pick one out of the lot and marry her legally? That is my point. Funny enough, I have been have a kind of solidarity from among both sex.  I have a lady that married to an already married cousin of one of the senators castigating me.  She is the second wife of the cousin of the senator. They are living happily.  Unfortunately truth is not respected any more, otherwise I wont be this castigated.
You said former President Goodluck Jonathan should be prosecuted if found wanting regarding the arms scandal?
Well, let me explain myself. I was talking about the level of corruption in the country and I added that whoever is found wanting, particularly in the scandal associated with the issue of arms, should be prosecuted. And the journalists around asked if Jonathan is also found wanting, should he be prosecuted? And I said anybody, irrespective of the person or the office he or she occupies. It has nothing to do with Jonathan. I said anybody, and I think that word, anybody, covers everybody, including former presidents, members of the National Assembly, ministers, chief executives of companies, anybody. There is nobody that should be above the law. If all the revelations emanating from the arms scandal are eventually found to be true, of course after those mentioned are convicted, because until there is conviction, all those mentioned are innocent, after conviction, then we can yes, they deserve their punishment. So, that was what I was saying that anybody implicated in the scandal and eventually convicted must not be above the law, such person should serve the punishment attached to such crime.