By Olasukanmi Akoni
LAGOS—Governor Akinwunmi Ambode, yesterday, approved the immediate re-opening of troubled Mile 12 market that was shut following a violent clash which led to the loss of lives and property.
The Governor, in a statement by the Commissioner for Information and Strategy, Mr. Steve Ayorinde, said the decision to re-open the market followed an agreement reached with all the stakeholders involved in the operation of the Mile 12 market.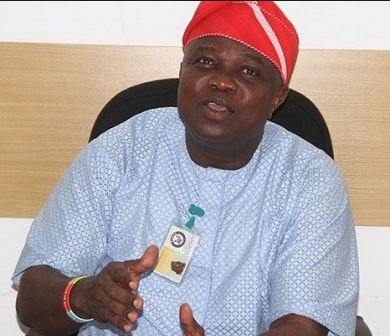 Ayorinde added that the re-opening was also as a result of the outcome of the stakeholders meeting held between the Market Men/Women, traditional leaders in the Agiliti and Maidan communities, as well as residents and Community Development Association, CDA.
According to Ayorinde, other major agreements arrived with a consensus among the various stakeholders include: "Relocation of the Market to another suitable location as the existing market can no longer contain the traders; ban on the use of Commercial Motorcycles (Okada Riders) in the area; peaceful co-existence among all ethnic groups in the Market and environs; and removal of all shanties and illegal attachments/structures within the Market area."
Ambode shut the market on March 3, 2016, after a clash between residents and Okada operators in the Mile 12 area.
…Welcomes NECA'S offer to partner govt on job creation
Meanwhile, Governor Ambode also yesterday said his administration will continue to explore various avenues and partnerships to make youths in the state acquire the necessary skills to be gainfully employed as well as become job creators and innovators.
The governor who spoke when he received the Director General of the Nigeria Employers Consultative Association (NECA), Mr Olusegun Oshinowo and representatives of various multinational companies at the Lagos House, Ikeja, said youth unemployment is one part the of development issues on which his administration is committed to tackle headlong, aside security of lives and property and improving social infrastructure.
Welcoming an offer by the NECA to partner the State Government to enhance youth productivity and skill acquisition, Governor Ambode said the rate of unemployed youths in the country could spin negatively if collaborative efforts between government and the Organised Private Sector (OPS) are not geared towards addressing it.
Earlier, DG of NECA, Mr. Oshinowo said that creating jobs for youths will go a long way to address issues of insecurity, commending the efforts made by the state  so far, especially the setting up of the Ministry of Wealth Creation and Employment.
…Charges Chevron to help take youths off streets
Governor Ambode who also received a delegation of Chevron Nigeria Limited led by its Managing Director, Mr. Clay Neff, thanked the group for its corporate social responsibility programmes in the state, saying that his administration will continue to enhance the existing partnership with the government.
He urged the group to key into the vision of his administration to create jobs for youths, especially through exchange programmes, skill acquisition and training programmes, which would see youths become engaged productively.