By Chidi Nkwopara
OWERRI—Imo State Governor has presented a proposed budget of N102,208,328,832 for the 2016 fiscal year, to the state House of Assembly, tagged "Budget of consolidation and continuity."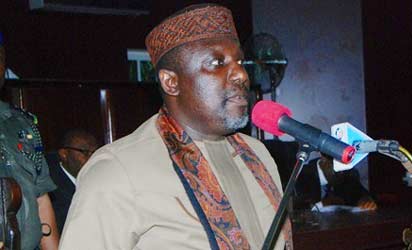 Making the presentation, yesterday, Governor Rochas Okorocha said that this was lower than the 2015 budget by N41.11 billion, which translates to 28.7 percent.
"The budget consists of N44.043 billion capital expenditure, representing 43.1 percent of the total budget and N58.165 billion recurrent expenditure, which represents 56.9 percent of the total budget," Okorocha said.
The governor put the projected recurrent revenue at N76,074,165,612, while the capital receipts was put at N26,134,316,419.
Okorocha said that outside normal taxes and fees, government intends to collect over N522.55 million through the Imo Geographic Information Services, IGIS, from the Ministry of Lands, Survey, Housing and Urban Planning, as well as over N2.5 billion from anticipated interest and bond proceeds from government investment within the second quarter of 2016.
"N5 billion is expected to be generated through the Environmental Transformation Commission, ENTRACO, and other revenue consultants set up by government," Okorocha said.
Saying that his administration will endeavour to enforce all the existing revenue laws through revenue courts and effective use of Alternative Dispute Resolution methods, Okorocha noted that government remains committed to reducing incidences of tax evasion to the barest minimum in the new fiscal year.