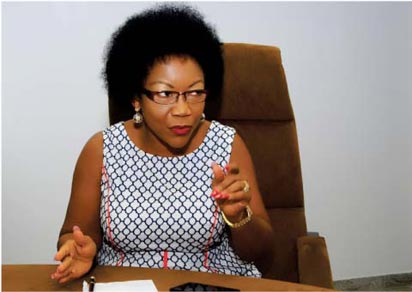 •Mrs Usoro
The Chairperson of Ibom Deep Seaport Implementation Committee, Mrs. Mfon Ekong Usoro, who is also the  pioneer Director General of the Nigerian Maritime Administration and Safety Agency, NIMASA and the current the Secretary General of the West and Central Africa Memorandum of Understanding on Port State Control, spoke to Sunday Vanguard's Godfrey Bivbere, of efforts at the completion of the deep sea port, challenges so far and many more.
Excerpts:
Does Akwa Ibom State really need the Ibaka seaport? Isn't this some kind of ego trip for us as a state, as some have suggested?
That is a double barrelled question. First let's get the name correct; it is Ibom Deep Seaport, not Ibaka, because truly the project location traverses both Ibaka and Ibeno communities. Do we need a deep seaport? The direct answer is yes. When we say 'do we need…', the 'we' there is not limited to Akwa Ibom State ; it is Nigeria that needs a deep seaport. As of this moment, Nigeria does not have a deep seaport.
What we have now that may be closest to being a deep seaport are the Lagos ports which, by continuous dredging, has now been able to achieve a feat of between 10 to 12 metres depth. But that doesn't make it a deep seaport because it still cannot take in vessels of over 15 metres draught. So we don't have a deep seaport in Nigeria . The second point is that the major ports in the country are currently all located in Lagos .
Millions of containerized cargo comes into Nigeria ; but relatively very few are destined for the Lagos metropolis. It is from Lagos Port that containers or palletized cargo are transported by road haulage to other parts of the country. The import is that Lagos ports which are on the Western flank serves the entirety of Nigeria , resulting in delays, accidents, high insurance premium and exorbitant freight rates. When freight rates are high, consumers purchase items in the market at a higher cost.
If you divide Nigeria into two, vertically that is north to south, you have the north east, north central, south east and south-south on the eastern flank. As of today there is no deep seaport on this eastern part of Nigeria . The industrial hub of this country is in the south east and part of the south-south, so if you have a deep seaport that is located in the Niger Delta, that is in Akwa Ibom, then the port will be able to service as its primary catchment area, the south-south, south east, north central and the north east. These regions in terms of population have over 50 percent of Nigeria 's populace.
That means there is already a critical mass that is underserved by the existing ports in Nigeria . The issue of the ports congestion and delay is because we do not have the capacity in our ports to accommodate all the vessels that call at Nigeria . The existing ports in Nigeria have no capacity to transport all import and export cargo. Most of the vessels destined for Nigeria, call at the ports of neighbouring countries like Togo, Benin, Cameroun to discharge due to inadequate capacity even though the cargo are for Nigerian market. Ibom deep seaport is designed for very large vessels, vessels that can load over 13 thousand containers in one voyage.
There has been much talk about the Ibom Deep Seaport from the last administration up until now. What are you bringing in as a Committee that is going to make the outcome different this time?
We are hoping that, by the grace of God, this will be the last Committee. This Committee will realize Ibom Deep Seaport. What we are bringing in is our collective wealth of expertise, experience, contacts and goodwill; the State has never had a Committee that has been constituted in this manner. All of us on the Committee are experts in the shipping and maritime industry and infrastructural projects. We have marine engineers, marine surveyors, hydrographers, maritime security experts, maritime administrators, experts in maritime law, infrastructure financing, ICT etc in the project team.
Some people are of the opinion that politicization of the project deep sea port and strong interests working against it from certain sections of the country would work against it?
First of all, it is understood that people have to be skeptical, say for one political reason or the other. I would say, as an expert, that it is an unwarranted fear. The theories are totally unrealistic. In the final analyses, everybody plays by the market, because it is the market and the planning that dictates the success and failure of a project. It is not a particular ethnic group that will decide if we must have a deep seaport in Nigeria or produce a professionally sound business plan. It is not in the interest of the policy makers or the Nigerian economy that we are losing revenue to neighboring countries because of the inadequacy of the existing ports. We live and interact with them, and we know they know that there should be a deep seaport in Akwa Ibom State.
We actually have a lot of cooperation from them. It should be noted that other deep seaport projects are also being planned, for instance, the one in Lekki. It is pathetic that some Akwa Ibomites may want to de-market the project for political reasons; this is very unpatriotic because the Ibom Deep Seaport is for Akwa Ibom State , not for a political party. Members of the Committee are not politicians but professionals and experts in our respective different fields. We are purely motivated by the commercial imperative of having a deep seaport in Akwa Ibom which will serve Nigeria and other neighboring countries. We are totally politics blind and intend to meet with key Akwa Ibom stakeholders in every political party for their inputs.
Let's connect the dots between the current administration's  industrialization and investment promotion agenda with the seaport project. How do they connect?
That is a very interesting question. The deep seaport drives industrialization and economic activities in the community, and the economic activities in the community also drive the deep seaport. So there is going to be a synergy between both activities. As we talk to investors, that is, shipping lines, terminal operators… they are interested in knowing the economic and commercial activities in the state where the seaport is located.
When they know that there is a vehicle plant, a big mall, a petrochemical factory, power plant etc it immediately engenders interest. In point of fact, one of the shipping lines asked a question concerning availability of mega-sized malls because they bring in consumables a n d commodities from Asia for traders and supermarkets. We cited the vibrant markets in Akwa Ibom and Abia, mentioned Tinapa, but it is even better to say we have Shoprite in Uyo. As Shoprite sets up shop in Uyo, they come with their anchor tenants.
We have the big mall, we have large markets in Aba, Onitsha and also in Akwa Ibom that are driving the demand for the deep seaport. On the aspect of this drive towards agriculture, some of the terminals will be for dry cargo such as grains, rice etc. It will serve the farmers better to know that there is a deep seaport next door and an agriculture cluster in the industrial city; remember we are working on Ibom Industrial City which is integrated with the port.
Now that you have mentioned the Ibom Industrial City, could we talk about it some more? Before now, we heard about Ibom Industrial City as the bigger complex, and the seaport as a part of the city, but we no longer hear much about it. Has that idea been jettisoned?
No, it has not been jettisoned at all; it is still a dual project. We still have the Ibom Industrial City and the deep seaport is actually a part of it. It is going to be an integrated city where the infrastructure will serve the industrial city and also the deep seaport. On the industrial city itself, we are following the modern pattern of industrial cities, where it is designed and constructed on a cluster model. That means, you will have a different industrial sector per zone. Part of the industrial city, especially the waterfront area, will have ship repair yards, oil and gas logistics – the activities in the industrial city will promote the seaport and the seaport will also promote the industrial city. That is the modern concept.
We don't want to build a seaport that will only have a quayside, what happens behind the quayside is the modern way of planning and construction of a seaport. Produce or goods brought into the Industrial city are produced or processed have secondary and tertiary value and ready for export. It is a fantastic concept and design. It is very important to note that the Ibom Industrial City and Deep Sea Port is a Free Trade Zone area. Industries and tenant will enjoy the fiscal incentives accorded to a FTZ. You asked earlier what we stand to offer (the Committee).
We are bringing in our technical abilities in project design and execution; our plan sees a clear path from now to when the first cargo arrives, because our intention and our concept is not to encourage the State government to commence construction or some money bags bring in funds to construct the port only to be saddled with an idle port. The committee was constituted in July, we have been busy engaging with advisors and potential investors to make sure that as we commence, we will have ships berthing immediately after construction is completed. We want investor/developers, preferably shipping lines and terminal operators because you are assured of ships and cargo.
What meet on ground on this project, given that the former administration promoted the project a lot? What exactly is your Committee and this administration building on?
For a start, one of the greatest positives that we have in herited from the past government and which we leverage on is that everybody knows about Ibom Deep Sea Port; stakeholders are aware of the existence of the project. We are not just beginning to tell a story that was never told. It was a good story and it got the industry excited. The immediate past government as you said brought immense publicity to the project and we must acknowledge the administration before that for their contribution to the project. 8 The industry is now interested in seeing it come to fruition, which is the stage that we are at. Development and construction of a port is not something you complete in two, three years; the background work that the previous administration did is now culminating in our actually securing investors who are ready to bring in funds and co-develop the port with Akwa Ibom State and the Federal Government. It must b e mentioned that the previous administration produced the outline business case for the project and obtained Federal Government approval.
What is the nature of partnerships you're looking at, and at what ratios?
The public private partnership structure is 20 percent Federal, 20 percent State and 60 percent private sector. The bulk of the funding will be from the private sector, which could be one mega-company or a consortium.
Udom's government is working hard to attract private equity into the state. The government is not looking for people who want funding from government but those who have deep pockets to invest. The government's role is to provide an enabling environment.
Looking at Ibom deep seaport and the industrial city and the plans you have on ground right now; in the next ten years where do you see Akwa Ibom State ?
Akwa Ibom will be a thriving industrial and commercial hub in the South South; you will have at least forty thousand new jobs, modern city infrastructure, industry and tourism. We are going to have a fantastic water front along the Industrial City 9 designed in a way that will attract people to visit for tourism purposes. There will be residential areas and educational institutions.