* After aborting overseas medical trip
* Ex-NSA may return to court to challenge DSS
By Soni Daniel, Northern Region Editor & Kingsley Omonobi
Abuja — In a brazen move to arrest and prevent the former National Security Adviser, NAS, to President Goodluck Jonathan, Col. Sambo Dasuki (retd), from travelling abroad for medical attention, security operatives, yesterday, besieged the Asokoro residence of the embattled former military officer.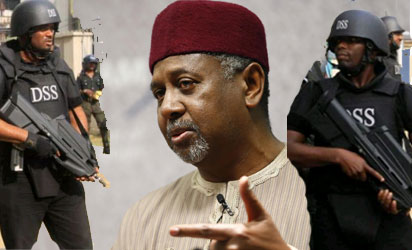 The siege on his 13, John Khadiya home, Asokoro by the operatives of the Department of State Services, DSS, came moments after they had successfully stopped him from travelling abroad for medical attention, as directed by an Abuja Federal High Court.
The armed DSS officials, laden in two operational black trucks, stationed themselves in front of the expansive compound of the former NSA but were not confrontational with passers-by, who did not understand what was going on around the highbrow neighbourhood.
Vanguard learnt that the siege might not be unconnected with a renewed bid to arrest and charge Dasuki to a different court over what a security source described as "fresh evidence" against him.
The overall goal, according to informed sources, is to make it impossible for Dasuki to leave Nigeria with charges of illegal arms possession and money laundering hanging on his neck.
The sources said the security agents were dissatisfied with Justice Ademola Adeniyi's order, directing them to release Dasuki's passport for him to travel abroad for three weeks in search of medical attention.
The security establishment, it was learnt, are apprehensive Dasuki could escape from the country and evade prosecution for offences against the state.
Justice Adeniyi Ademola of the Federal High Court, last Tuesday, granted Dasuki's request for his passport to be released to enable him to travel abroad for medical treatment.
However, Vanguard learnt, yesterday, that Dasuki, who was billed to travel on Wednesday night, was stopped by security operatives at the Nnamdi Azikiwe International Airport in Abuja.
Dasuki reportedly returned to the airport yesterday morning to make his trip but was also prevented by the same security agents, who did not, however, give him any reason for their action.
Dasuki may challenge DSS
A frustrated Dasuki was said to have returned to his Asokoro house following the aborted trip and was considering returning to the Federal High Court to seek redress against the Department of State Security Service, whose agents halted his movement abroad.
A source close to the former NSA said that Dasuki was in his house as at the time Vanguard made contact with him. The source denied reports that Dasuki had again been placed under house arrest by the DSS.
The source said: "The security agents only prevented Dasuki from travelling on Wednesday night and Thursday morning. He has returned to his house and is not under house arrest."
But the DSS operatives had on Tuesday attempted to arrest a former Adamawa State Governor, Boni Haruna, who had gone to court to stand surety for the Dasuki.
Haruna, a former minister in the cabinet of President Goodluck Jonathan, was reportedly questioned on how he knew that Dasuki would be granted bail and why he went there as a surety.
The Department of State Security (DSS) last night explained reasons why former National security Adviser, Col. Sambo Dasuki (rtd) was prevented from travelling out of the country for  medical attention saying that his refusal to appear before a committee investigating a $2billion arms transaction in the Jonathan administration was responsible.
It accused Colonel Sambo of pulling all strings available to him to evade investigation and painting the DSS in bad light.
According to a statement signed by Tony Opuiyo, DSS said "The attention of the Department of State Services (DSS) has been brought to the report making rounds that its operatives illegally blocked the residence of the former National Security Adviser (NSA), Col. Sambo Dasuki (rtd), in violation of a subsisting court order granting him a relief to travel oversea for medical services.
"This is to say the least that such report is not only unfounded and malicious but aimed at tarnishing the good image of the Service.
"It may be recalled that Col. Sambo was initially arrested and charged to court for unlawful possession of firearms and money laundering, for which reason his international passport was seized and on the order of the court, returned to the registrar for custody.
"What has brought the seeming standoff between Col. Sambo and the Service, despite the court-ordered release of his international passport on 4th November, 2015, is his refusal to appear before a Committee undertaking the investigation of an entirely different case.
"The public may wish to note that the government set up the Committee to investigate procurement processes relating to a two billion dollar ($2billion) arms transaction by the last administration, under which Col. Sambo was the NSA.
"It was on this premise that he was invited by the Committee to shed more light on his involvement in the deal.
"It, therefore, remains surprising and shocking that Col. Sambo has refused to honour invitations of the Committee but instead resorts to grandstanding and subtle blackmail of the Service.
"His refusal to appear before the Committee has left the Service with no option than to adopt legal means to ensure his attendance.
"Therefore, without doubt, Colonel Sambo is pulling all strings available to him to evade justice and put the Service in bad light.
Dasuki reacts-I was never invited by investigation committee
Shortly after the Department of State Security (DSS) cited former NSA, Colonel Sambo Dasuki's refusal to appear before an investigation committee looking into a $2billion arms purchase transaction as reason for preventing him traveling abroad, the former NSA last night debunked the claim.
Dasuki denied ever receiving any invitation letter to appear before a Committee set up by the current administration to investigate procurement processes relating to any arms transaction by the last administration, under which he served.
Responding to the statement of DSS, he said 'it was strange that a committee purported to be operating from the Office of the National Security Adviser could have transferred its mandates to DSS.
Dasuki was first arrested by the DSS in July after a prolonged siege on his Abuja residence.
He was charged to court with illegal possession of arms and money laundering.