OTUNBA Gani Adams is the National Coordinator of the Oodua People's Congress, OPC. In this interview, he argues that failure by the Federal Government to address the continued attacks by Fulani herdsmen may lead to the South West seceding. Excerpts:
By Dapo Akinrefon
On recent position of Yoruba leaders and elders
What we said at the meeting was that as citizens of Nigeria, we have right to protection. We realized that the Fulani crisis with our people has been on for close to 18 years and there have been lots of incidents that attest to that.
We also realized that most of the kidnapping in Ondo, Ekiti and Oyo states are being perpetuated by Fulani herdsmen. We took a decision that if the Federal Government fail to protect us, we have right to self determination.
Threatening of territories
We are not saying anyone should leave the South West because we want development and the contribution of non Yorubas cannot be quantified. But that does not mean that some of them should threaten our territories.
We have so many Yoruba people in the north and I have not heard of a situation where a Yoruba man will kidnap a commoner not to talk of a personality. They will not go beyond the boundaries. We cannot say because we want development, we should therefore allow our territory to be threatened.
It is uncalled for that the caliber of Chief Olu Falae, a former Secretary to the Government of the Federation, should be kidnapped. After paying ransom, he was released and some few days later, the Fulani herdsmen still invaded his farm and destroyed his crop.
Any sensible race will not keep quiet over such an incident. Three days after the Yoruba summit, the kidnappers were apprehended by the security agencies. We have right to self determination and it is a position that we will continue to push if the federal government refuses to provide us with enough security. The South West is the economic nerve centre of the country and when you allow such security lapses in the South West, it will affect the country.
The former governor of Kano State, Senator Rabiu Kwakwanso recently justified the activities of the Fulani herdsmen, arguing that they need eduction, what is your take on this?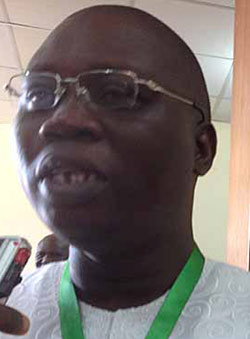 I agree with him (Kwakwanso) that the Fulani herdsmen need education. Most of the people, who are educated in the South West did not get that with the help of the government, it is an individual effort. How states in the south provide free education to its citizens? It is an individual or family effort.
But for Kwakwanso to condemn our position, he does not have the right to do so. I have never heard or seen Kwakwanso condemn the activities of Boko Haram. For him to support those who kidnap in the South West, it shows that he would not have been a good leader if he had emerged president of Nigeria. I will advise the former governor that he should be careful with his words because Yorubas are too sensitive. Can anyone from the South West go to Kano and make statements against the Arewa Consultative Forum and not be lynched? How can someone come to the South West and condemn what its leaders and elders have said? Yoruba is a unique race that nobody should toy with because we contributed to the survival of democracy.
Survival of democracy
I am disappointed that some younger Yoruba people supported what Kwakwanso said. Some of them do not have political orientation, all they do is support any cause without having any background information. One of them is Professor Daudu Noibi, who in an advert in one of the national newspapers, hurled abusive words at Yoruba leaders and elders over their position.
He is taking cover a religious Organisation to make his comment but this is not a religious issue. Where is he coming from to condemn the position of Yoruba leaders and elders? Why is he pretending to be a Yoruba person? Why must he say that those who kidnapped Chief Falae are from Niger Republic and not Fulanis? The Fulani in Nigeria did not deny that those arrested are  Fulani herdsmen.
I see him being used for political gain and money. I know some people are using this Professor Noibi for political gain but he should be careful and I also want our leaders and elders to beam their searchlight on him. There is no way you betray the Yoruba race and go scot free.