By Clara Nwachukwu & Sebastine Obasi
LAGOS — The inability of  marketers to access foreign exchange from banks is said to be frustrating the importation of petroleum products, especially, premium motor spirit, PMS, or petrol, which is in very high demand in the county.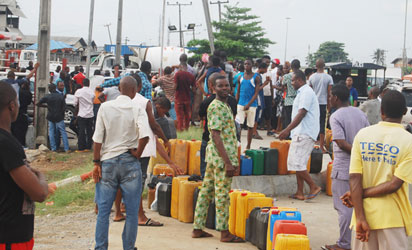 As a result, the Central Bank of Nigeria, CBN, has been called upon to look for ways and means to make foreign exchange available to marketers to ease the challenges.
This is just as the Federal Government has pleaded with marketers to reschedule their lay tan, to bring forward the period of arrival for their scheduled vessels.
Inadequate supply is contributing to the lingering fuel scarcity that set in since the past weeks despite concerted interventions by the Ministry of Petroleum Resources, Nigerian National Petroleum Corporation, NNPC, and oil marketers to salvage the situation.
Furthermore, the fact that the N413 billion approved by the Federal Government as payment for outstanding fuel subsidy which has not been approved by the National Assembly, is not helping matters, even as consumers accuse marketers of hoarding the scarce commodity to maximise profit.
Speaking on the development, Chairman, Depot and Petroleum Products Marketers Association, DAPPMA, Mr. Dapo Abiodun, told Vanguard on phone, yesterday, that the reason why the stakeholders' intervention is not yielding much success is due to supply shortfall.
According to him, daily consumption is about 35 million litres despite claims to the contrary, and NNPC alone cannot meet this demand because NNPC is a supplier of last resort and not a major supplier.
"We consume more fuel in December alone; we consume a minimum of 35 million litres because it is a holiday period and there is a lot of movement in and out of the country. So it is not a time to play politics or to experiment with numbers because marketers normally prepare for December period."
Non-payment of outstanding subsidy
Abiodun, however, noted that such preparations had been stalled due to the non-payment of outstanding subsidy claims and lack of access to foreign exchange.
He said: "Marketers have not been paid outstanding subsidy, although government has approved N413 billion, the highest amount approved by any government. But the National Assembly refused to approve, saying it was not part of the budget. So, it had to be included in the supplementary budget, which is yet to be approved.
"But while we wait, the CBN must make available foreign exchange to marketers because there is no forex to pay our creditors, and we have been crying out loud on this for months but it has fallen on deaf ears. There are members who are willing to fund the import with their money, but where is the dollar equivalent for it? And even if we source the dollar from somewhere, the additional costs will be factored into the subsidy claims."
Vessel rescheduling
Another marketer, who spoke in confidence with Vanguard on phone, disclosed that government had pleaded with three or four marketers, whose vessels were scheduled to arrive in December, to bring them forward this month.
He said: "Government told those with awaiting vessels for December, about three or four of them, to reschedule their lay tan and bring them forward to before the end of November.
He said the rescheduling of the lay tan is possible, as long as the vessels have been billed to arrive at a particular period," adding that the supply shortages will ease once the cargoes come in.
Also speaking, a spokesman for the Petroleum Products Pricing Regulatory Agency, PPPRA, Mr. Lanre Oladele, said that sharp practices and the desire to sell the product above the official price of N87 by some marketers is responsible for the long queues being experienced in retail outlets.