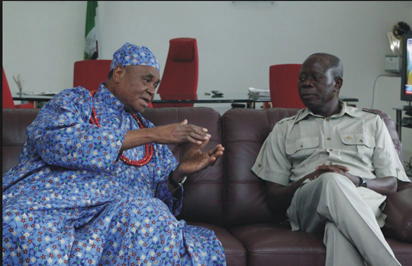 File Photo: The Esama of Benin, Chief Gabriel Igbenedion and Gov. Adams Oshiomhole, when the later visited him.
By Simon Ebegbulem
BENIN—The All Progressives Congress, APC, in Edo State has called on the Esama of Benin, Chief Gabriel Igbinedion, to defend himself over the allegations levelled at him by Governor Adams Oshiomhole in his address at the ceremony to mark his 7th anniversary in office and stop whipping up sentiments.
In a statement by the APC State Publicity Secretary, Godwin Erhahon, the party said the Bini chief has been circulating falsehood to distort the facts of the governor's address in order to score cheap points.
He said: "We have watched with amusement, the desperate attempts by Chief Igbinedion and his sympathizers to portray Governor Oshiomhole as a villain.
"It will be recalled that Chief Igbinedion had, since 2012, deployed his radio and television stations to conduct incessant and undeserved campaign of calumny and falsehood against the person and office of Governor Oshiomhole until early this year.
"The Independent Radio and Independent Television had at a time publicly apologized and recanted their stories and the virulent attacks abated. From what we now know, the renewed onslaught against the governor is directly attributable to the fact that he exposed the transfer of state land to the chief in questionable circumstances during the tenure of his son Chief Lucky Igbinedion as governor.
"There is also the issue of using government facilities to train students in private institutions owned by Chief Gabriel Igbinedion at the expense of Edo tax payers while the chief smiles to the bank with hundreds of millions of naira."
The governor equally exposed how his son, former Governor Lucky Igbinedion awarded the contract for the construction of Iguobazuwa-Okada road to his younger brother, Bright Igbinedion who diverted the contract sum to construct roads within Igbinedion University, leaving the people of Okada and the neighbourhood to continue to suffer and risk their lives on the bad road."