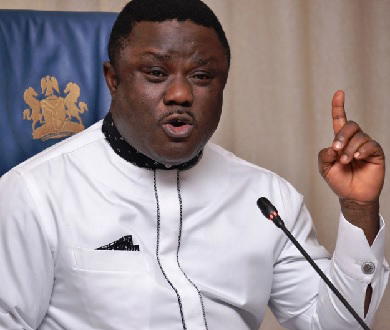 Governor Ben Ayade
The Cross River Government has suspended indefinitely, the Permanent Secretary, Ministry of Education, Anne Odey, for "flouting civil service rules", amid a controversy over ban of morning and afternoon prayer sessions in schools.
Jude Ngaji, the State Security Adviser to Governor Ben Ayade, disclosed this on Friday in Calabar while speaking to journalists.
Mrs. Odey in a statement had directed all private and public primary and secondary schools in the state to stop morning and afternoon devotion forthwith.
According to her, the directives came from the Commissioner of Police, Henry Fadairo, in view of the security challenges facing the nation.
On Wednesday, the state Chairman of Christian Association of Nigeria (CAN) Archbishop Joseph Ukpo, in a statement, called on the state government to immediately withdraw such directive.
The CAN leader said that such directive negated freedom of worship.
"This directive to suspend morning devotion will negatively affect the moral upbringing of our children who are the future leaders of this country,'' the statement stated.
Mr. Ngaji said the governor was not aware of such directive, neither did the permanent secretary pass such information through the governor or through his office for approval.
"The governor has directed that the permanent secretary be suspended indefinitely while the ban on suspension of devotion has been lifted immediately.
"It is true that police got intelligence information that Boko Haram is planning to bomb schools during morning devotion and therefore directed authorities in the ministry of education to act fast.
"But the permanent secretary did not bother to refer to the governor or call for stakeholders' meeting to that effect.
"So, the governor feels pained that the permanent secretary got such sensitive information without seeking for his advice and went ahead to issue directive suspending morning devotions in schools," he said.
According to him, it would be contradictory to say that the governor who not only believes in God, but a strong catholic, would turn around to do otherwise.
He appealed to religious leaders to discountenance such instructions as the state government was committed to inculcating good moral lessons in pupils and students in schools.
Reacting, John Eluu, the state police public relations officer, said that the commissioner had approved a "10 minute" time duration for morning and afternoon devotions.
"The commissioner of police told us during our briefing today that he has approved 10 minutes each for morning and afternoon devotion in both public and private schools in the state," he said.
(NAN)