By Marie-Therese Nanlong
Jos—Assistant Inspector General of Police, AIG, Mbu Joseph Mbu, has said he was not a monster but a proud police officer with a mission to transform the Police Staff College and make those serving in the college proud of the Force.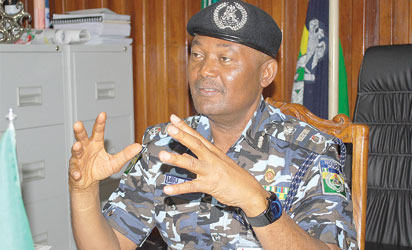 AIG Mbu, who resumed duty yesterday as the Commandant of the Police Staff College, PSC, Jos, said he would do his best to transform the college and appealed to journalists to assist him in the discharge of his duty.
He noted that the Inspector General of Police, IGP, Solomon Arase, had many challenges and urged police officers and men to give the IGP the needed support and discharge their duties as expected.
His words: "I was posted here not on punishment but to come and transform the College. I did not resume early because I was on leave, I am still a serving  Police Officer and I love my job and I do my job as should be done.
"While working, I do not know wife, brother or friend. I am proud to be a Police officer. I am not a monster, my detractors are sponsored to write rubbish about me, as I am here, Officers on Course and those serving here are going to be treated well so they enjoy their jobs.
"This college is the highest Police Training institution in the country and it is a privilege to be posted here.  Our Inspector General has promised to ensure that training is his priority and that is why I was posted to help transform the College.
"I have come to build confidence in my Police men, they must work with confidence, without fear of intimidation. I don't compromise discipline and will ensure that the tenets of the job are strictly adhered to."
The new Commandant took over from AIG Bala Nasarawa who was posted to Zone 7 Abuja and the College trains officers from the rank of Assistant Superintendent of Police, ASP, to the rank of Assistant Commissioner of Police, ACP and Deputy Commissioner of Police, DCP.
Courses offered in the College include Strategic Leadership Command Course, Advanced Detective Course, among others.