By John Egbokhan
The bristling and bubbling commercial city of Aba will tomorrow come alive as two traditional teams of the Nigerian league, Enyimba and Shooting Stars clash in a mouthwatering week 33 fixture that will see fireworks literary go off with rival fans revelling in the football drama that will ensue on the pitch.
In a season replete with upsets and away wins, Shooting Stars of Ibadan are bidding for an unusual away win against a title-seeking Enyimba side, who top the table with 58 points, three ahead of second placed Warri Wolves, four more than third-placed Wikki Tourist and 12 points more than the Oluyole Warriors.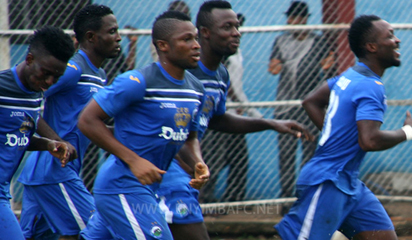 With six matches left to play in the 2014-2015 season, Enyimba go into the game acutely aware that they need to pick up home wins to beat rivals Warri Wolves to the title. Wolves, bidding for their first title since inception, will feel they have no better chance than now to break the jinx but Enyimba seem to have their fate in their hands and a victory against Shooting Stars will edge them closer to their seventh title.
And with Warri Wolves having the much difficult away game against Rangers in Enugu, Enyimba will feel confident of increasing their lead should the former falter on the road.
And speaking on their dream, Coach Kadiri Ikhana insists that the Aba Elephants will not allow their nearest rivals to catch up with them in the dying stages of the season.
Recalling how they narrowly lost the title to Kano Pillars last year, Ikhana, who guided Enyimba to their first Champions League title in 2003, said no matter how hard the chasing pack try to dislodge them from the top that the Aba side would hold tightly firm to their top spot till the end of the campaign.
"At the start of the season, we told the world that our objective is to win the title and 32 matches on, we still stand by that same mandate. We know it is not easy winning the title given the high level of competitiveness that we have seen this season but we are equal to the task and not ready to give room for any team to overtake us, especially now that we are on top.
"I know that Warri Wolves are hot on our tail but like we ended up losing the title by one point to Kano Pillars, Warri Wolves will lose the title to us. We are ahead of them with three points, which I think are enough to win the title. If Pillars can win it with one point, then we should feel confident of winning it with our present lead," added Ikhana, with about 30 years coaching experience.