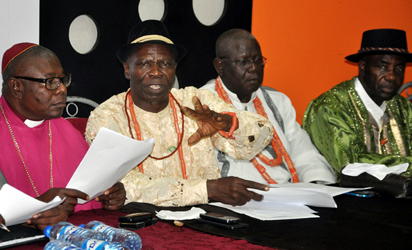 hostcom briefing: From left— National Director, Clergymen of Host Communities of Nigeria Producing Oil and Gas, HOSTCOM, Primate Dr. Moses Ogbodogbo; National Chairman, Prince Mike Emuh; Edo State Chairman, HOSTCOM, Prince Sam Igbineweka, and Bayelsa State Chairman, HOSTCOM, Chief Bob Nabena, at the briefing on modal refineries, oil pipeline surveillance and gas flaring, in Abuja, yesterday. PHOTO: Gbemiga Olamikan.
By Michael Eboh   & Grace Udofia
ABUJA — Oil producing communities in the country, under the auspices of the Host Communities of Nigeria Producing Oil and Gas, HostCom, yesterday, disclosed that they have entered into an agreement with a number of foreign investors from Germany, United States of America among others, to build 10 modular refineries in Nigeria.
This is an improvement on its initial plan to build a single modular refinery in one of the oil-producing states.
Speaking at its national conference in Abuja, Mr. Mike Emuh, National Chairman, HostCom, said that funding for the 10 modular refineries would be provided solely by the foreign investors, while the refineries would be constructed in all oil-producing states.
He, however, blamed the delay in the commencement of the project on issues surrounding licensing and cost and sources of crude oil supply to the refineries.
Need for licence
He said: "We are, therefore, calling on the Federal Government to grant our foreign partners licenses and all necessary cooperation for the smooth take off of these modular refineries that will be financed wholly by our foreign partners."
Emuh further bemoaned the continuous flaring of gas by oil companies in the country, stating that HostCom has, therefore, issued a 30-day ultimatum to all international oil companies, IOCs, operating in the country to stop gas flaring or face the wrath of the communities.
He lamented the fact that Nigeria still ranks among countries with the highest rate of gas flaring in the world, while Federal Government had shown lack of commitment in addressing the issue.
He stated that oil and gas prospecting companies in the country had stopped paying penalties for gas flaring since 2008, while the Federal Government is yet to remit about N1.3 trillion gas flare penalty in the coffers of the Central Bank of Nigeria, CBN, to host communities.
Demand gas flaring money
To this end, Emuh called on all oil and gas companies in the country to immediately commence the remittance of their gas flare penalties to the accounts of HostCom.
He said: "We are appealing to President Muhammadu Buhari to instruct CBN to release the accumulated gas flare money that belongs to HostCom paid by IOCs through the Department of Petroleum Resources, DPR.
"To this end, we hereby advise all oil and gas prospecting companies in Nigeria to resume payment of the gas flaring penalty levy that has been stopped since 2008, directly to HostCom account immediately.
"Furthermore, we give a 30-day ultimatum to all IOCs to stop gas flaring nationwide forthwith or face the consequences."
Emuh also called on the Federal Government to cede oil pipeline surveillance to host communities, as this will help check oil theft, bunkering, illegal refineries and pipeline vandalization.
He said: "Host communities are the owners of the oil and gas and we know the people who vandalize the pipelines.
"We know those who lift the oil from the vessel; we know those who operate these illegal refineries. The only solution is to give it to the host communities; our boys will take care of it."