Former Deputy Speaker of the House of Representatives, Hon. Prince Chibudom Nwuche has called on politicians in Rivers State to eschew the negative culture of bitterness, blackmail and chicanery in their desperate bid to witch-hunt and to stop Rivers sons and daughters from being elevated to higher national duties.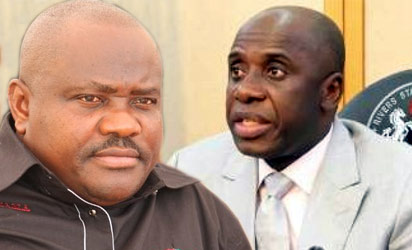 In a statement issued in Abuja yesterday, the former presiding officer in the National Assembly lamented the recurring situation where deserving Rivers sons and daughters are often willfully blackmailed and maligned by unscrupulous politicians in the State in a bid to prevent their elevation at the federal level, and consequently lose the state's slots for important national appointments to other states in the South-south region.
Hon. Nwuche revealed that he has been a victim of this odious practice by some misguided persons, including a former Governor of Rivers State, on account of his principles, forthrightness and outspokenness, and regretted that Rivers State had, as a result of this unwholesome practice, lost many important positions to other states like Bayelsa State.
He urged the authorities and Nigerians to discountenance and remain wary of the ongoing smear campaign against former Governor Rotimi Amaechi by the Rivers State government, advising that it is designed to deny him (and invariably the state) deserved elevation at the federal level.
He further observed that it is anomalous and ungodly for the authorities to use Rivers State resources, which should be deployed to the much needed development of the state as well as for improving the lot of the common Rivers man, to pull down Rivers men and women. He urged all well-meaning Rivers men and women to speak out against the state sponsored witch-hunt in other to preserve their state's resources and their leaders' dignity.
The former lawmaker noted that it is normal during electioneering campaigns for contestants to loosely ask their opponents in government to account for monies accruable to the state,and generally make outlandish statements in their bid to win votes for their parties and candidates,but that different rules applied after electioneering and  the commencement of governance.Politicians are expected to be more circumspect and weigh their actions and utterances more carefully,and consider the best interest of their states and constituents.
"It is very wrong for you when you have now taken over governance to pre-judge and publicly pronounce someone guilty of embezzling state funds, and thereafter constitute a judicial panel to investigate the alleged crime".
"The same authority that has publicly adjudged someone guilty of a crime even before investigating the crime, cannot go ahead and appoint a judicial panel to investigate the said crime and expect such accused persons to appear before the panel with the hope of getting a fair hearing", he noted.
Hon. Nwuche insisted that those in authority if they really intended to set up a fair judicial panel,ought to have eschewed public comments tending to indict those they wanted to appear before such panel,to ensure fair hearing.Pointing out that the judicial panel's constitution at this time is ill-motivated and appears to have been designed to achieve pre-determined ends.