By Vera Anyagafu & Bartholomew Madukwe
Babakura is an expert at making natural and organic products that helps to heal damaged skin and hair. As the founder of Mintus Creations Inc., Dr. Amina Babakura is a young Nigerian and an entrepreneur resides in Canada. She is popularly called little doctor by her friends as she is  just 23-years old.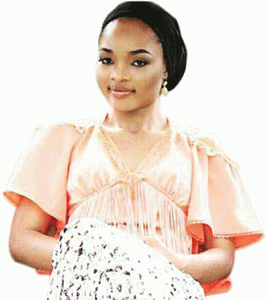 She started her medical studies in Nigeria and moved to Cananda for further study thereby rising to the peak.. Talking with Vanguard Women in Business, she speaks about how to work wonders on the skin by using natural ingredients among other issues. Excerpts:
How would you describe the Nigeria environment in regards to natural products?
So far so good I will say it is improving.At this point there are a quite few upcoming young entrepreneurs that I have been following on instagram that are into natural and organic skincare. It is really impressive. Nigeria is full of talented people.
Some entrepreneurs have described doing business in Nigeria as expensive, could that be  the reason you decided to have yours in Canada?
Hmmm, starting up a business anywhere I would say is expensive- not just Nigeria. I think it depends on one's target market, cost etc. So far, with the new government,we are hoping for change and  also the best.
We are looking into opening branches in Nigeria. Once that is done, production will definitely be in Nigeria. I am a Nigerian and will forever be a Nigerian. Once we open branches, we would employ interested persons both young and adults, and also provide trainings
Can you tell us what Mintus Creations is about?
Mintus Creations is devoted to making natural and organic products that helps to heal damaged skin and hair, also protecting it against the effect of day-to-day stresses from our environment. We formulate our products here with two things in mind- Safety and efficacy.
When did you start this natural skin and hair care business, what really inspired you to it?
I had started the business already even before the aesthetics school. What really inspired me? Hmm, lots of things. First, I always grew up to have a combination and acne prone skin which was not a good thing. I had tried so many things at the department Store but nothing seem to work for me and I started loosing hope. At some points, I lost confidence in my self and had very low self esteem.
One day, I asked myself "well, since most of the things we have naturally are beneficial and full of vitamins and minerals, why can't I use some of them to see if it will work for my skin, since skin absorbs almost everything you put on it?" So good thing I studied medicine so it was not hard researching. Luckily, I tried out few recipes and guess what, it did work very well! It is just sugar and honey. How could I have ever thought just those two easily accessible ingredients would work wonders on my skin.
Getting results….
I got impressive results, and even became more interested in researching, which I kept doing. I know how it feels and what it is to have low self esteem, zero confidence in one's self as well. Secondly, the rise in the use of harsh chemicals contained in some of these creams that tend to lighten or clear acne is not worth it, with the toll rise in cancer.
So I decided to also use the medium to get people to realize the benefits of natural products they could use to achieve same result as opposed to those harmful ones out there that one tends to even pay a fortune for. Why pay more to damage your skin?
What are the things you did in Canada before Mintus Creations Inc. was registered?
First, you have to list all the ingredients in the products and they must be identified as natural as well. There is a particular format you have to follow. Writing the scientific name of that ingredient then the English name. Secondly, your working environment has to be inspected to see whether you are producing from home or a factory to ensure safety, making sure the environment is safe and clean.
Some doctors have argued that if the Nigerian Government recognizes the great potential of the herbal /natural medicinal products industry, it will provide competitive advantage to Nigeria towards the attainment of a developed status by the year 2020?
Lets talk about organic products….
I think it is a good thing because people and the world as a whole are now looking into more of the organic and natural products. Like people from Canada get Shea butter from Africa and other products. Throughout the existence of man, the usefulness of natural products in medicine, beauty and health has been vast because our earliest ancestors chewed certain herbs to relieve pain, or wrapped leaves around wounds to improve healing.
Natural products have often been the sole means to treat diseases, and injuries. In fact, it has only been during the past decades that natural products have taken a  secondary role after the emergence of molecular biology. That is why with natural products you do not need much scientific evidence.
Although, yes, awareness and campaigns should highly be encouraged among youths and elders. The government should ensure all products termed as natural are well labelled, and manufactured or produced in a safe clean environment."
How has the Canadian government been helpful to students in the research for skin purpose?
Well, as far as research goes here in Canada the government is very helpful, tries all its possible best to encourage skincare aspects. A survey was carried out by the national institute of Occupational Safety and Health Studies, which they found out that over 884 chemicals used in personal care products and cosmetics as being toxic and estimates that women absorb about two kilograms of chemicals through toiletries and cosmetics every year.
Over 799 of them had acute toxic effects and over 300 caused developmental abnormalities, and this is because these chemicals may be absorbed into the body and brain three times faster than water. There are la few people that have realized the benefits of natural or organic products at least compared to before.
But I think there has not been enough campaigning done among the people that know the benefits to those that don't. Therefore, I feel more campaign or awareness has to be done since the number is rising and that is what Mintus Creations Inc. is about.
How did you start up your medical career and where did it progress to?
I started medicine in University of Maiduguri in Nigeria,then I moved to Canada where I attended All Saints University School of Medicine. I did not graduate at the University of Maiduguri as I got transferred in 2010.
Currently, I am preparing for my residency exams and doing rotations at hospitals in Canada, in different fields of medicine. I am doing a diploma programme in Medical Aesthetic and Laser Technician in Looks Aesthetic Academy in Canada.With some breaks in between, I did Medical Aesthetics and Laser Technician just to compliment the natural skin and hair Care business I have started.