By Tayo Williams
The race to succeed the late Oba Okunade Sijuwade as the next Ooni of Ife has reached feverish  pitch. Predictably, many Ife princes have emerged to stake a claim for the coveted seat regarded as the most influential monarchy in  black Africa. As things stand, only princes from the Lafogido, Osinkola and particularly Giesi Ruling Houses are eligible for the throne as the late Ooni hailed from the Ogboru Ruling House. The Giesi Ruling House, which last produced an Ooni in 1894, is in pole position to produce the next king.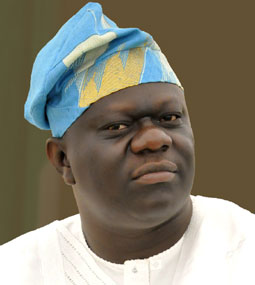 Indeed, in the last couple of weeks, a few names have been thrown up as possible successor to the late king, but given the remarkable achievements of Sijuade in his 35-year-reign, Ife now needs to move forward and only a young, vibrant and energetic Oba in the mould of Prince Adetunji Adeyemi Ogunwusi can deliver that. A scion of the Giesi Ruling House of Ojaja quarters in Ile-Ife,  Adetunji has been variously described as a visionary and a builder whose leadership qualities have endeared him to many.
Born on December 8, 1967 into the family of John Oluropo Ogunwusi from the famous Ojaja lineage of the Giesi Ruling House of the Agbedegbede Quarters in Ile-Ife, his mother, Margaret Wuraola Sidikatu Abegbe Ogunwusi, hailed from the family of Soji-Opa, a prominent  cocoa merchant in Ile-Ife. He attended Subuola Memorial Nursery and Primary School, Agodi, Ibadan between 1971 and 1977, and Saint Patrick's Grammar School, Orita Bashorun, Ibadan from 1978 to 1983.
Shortly after he graduated from  University of Ibadan where he studied agric economics, Prince Adetunji joined the then Nigeria Intercontinental Merchant Bank in 1991,where he was an authority in loan packaging and investment arrangement for four years. In 1995, he was appointed as Head of Credit and Marketing at Hillcrest Merchant Bank which later became Intercontinental Bank Plc and now Access Bank Plc. After 10 years of exceptional performance in the banking sector, he became a managing partner at New Africa Investment Limited. His employment life provided him with 17 years of valuable insight into structured and product financing, investment arrangement, large scale procurement, product development, business creation and marketing in the Nigerian economic terrain while also utilizing the efforts of both local entrepreneurs and strategic partnership from overseas especially where foreign expertise was required.
This provided a solid launch pad for his foray into business and reinforced his belief that anything is possible for those who dare to dream. Whilst he worked in the financial sector, a vision began to form in Adetunji's mind. He dreamt of establishing a revolutionary real estate and property development company that will become the best in the sector. Primewaterview Limited, formed in 2005, was the product of that audacious dream. Before Pricewaterview came to be, no indigenous private developer dared to invest in residential high rise development. It was considered a high risk investment with a concomitant high percentage of failure. But  Adetunji understood the terrain and navigated expertly to deliver Gardens 1 Estate (107 units of high-rise development) within 14 months. Buoyed by that remarkable feat, he immediately commenced the construction of Garden 2, another high-rise development of 348 units.
With these two projects completed, Adetunji was immediately reckoned with as a reference point in the industry and became the go-to man for mega real estate  projects. Within nine years of stirring the ship at Primewaterview, over 700 units of various types of housing units on the Victoria Island Annex/Lekki Corridor were completed. Noteworthy is that some of these projects were on-going at the time of the global economic melt-down, which adversely affected the property market globally, but Adetunji was unscathed; he emerged from the distress even stronger.
Contrary to the views held in some quarters, Adetunji's exploits in the real estate terrain is not just limited to development of luxury apartments; his primary concern as an investor is to open up new business opportunities and create a bigger playing field for other actors in the real estate sector and beyond. He was instrumental in the opening up of a number of communities on the Lekki Corridor. Between 2005 and 2006, he delivered 49 units of mixed dwellings in Oniru and pioneered the development of major infrastructures within the community. Before he diversified his efforts to other communities within the Lekki axis, his company developed and delivered over a hundred units of mixed dwellings. Yet, he was never reluctant to share his dreams and visions with others, which is why most of the developers currently operating in Oniru got their motivations through Adetunji's mentoring.
Because of his penchant for taking risks, Adetunji was one of the first Nigerians to make an entry into the then budding Dubai real estate market.
He also facilitated good returns on investment for many indigenous businessmen and companies in the market. Some of the countries where he has business interests and partners include: China, United States of America, United Kingdom, United Arab Emirate, Taiwan, Italy, Hong Kong, Spain and Australia. Having enjoyed unquestionable success in the business world, Adetunji, 47, now turns his sight on service. As a scion of Giesi Ruling House, he stands in good stead to mount the sacred throne as the next Ooni of Ife. And he is qualified to do so in all respect, yet, his aspiration is not motivated by the undeniable grandeur, grace and glory of the palace. He is challenged by the obvious need of his people which is why he sees royalty as service to humanity. He opined that royalty is both spiritual and physical empowerment of monarchs to ensure provision of adequate welfare of their people and protection of their socio-cultural heritage and not a position of exploitation or self-enrichment.
"The respect and dignity that come with royalty should be earned; Kingship is power and ability to serve the community at large. A monarch's ability to rule is not based only on one's divine right of succession, but also on one's ability to shoulder the responsibility that comes with being divinely appointed. A monarch should possess the ability to lead his subjects wisely, placing the welfare of his kingdom above his personal desire," he said in a recent interview.
Shedding some light into his vision for the people of Ife, if given the opportunity to serve, Adetunji promised to redevelop the historic city of Ile- Ife into becoming the regional centre for commerce and promote its cultural heritage. "Ile-Ife in the past accommodated and welcomed visitors and traders alike with warmth and open arms for the economic benefit of the indigenes. So, this would be the driving ideology for all my infrastructural, economic policy and developmental strategies,"he said. To underscore his readiness for the throne, the Prince has delivered a six-point agenda called WEALTH; W = Wealth creation, E = Education, A = Agricultural Development, L = Leveraging, T = Tourism and Trade, H = Human Capital Development.
Since he declared his intention to occupy the throne of his ancestors,  Adetunji  has enjoyed an outpouring of support from Nigerians across board. US based Asiwaju Olumide Mayungbe, the Asiwaju Omo Yoruba of Houston Texas USA, while showing support for the prince described him as an upright man. "Give him a billion  dollars for a cooperative business agreement; you don't have to look at your shoulders. He is a very astute business icon and a strategic builder. A very passionate humanitarian,"Mayungbe said.
He was corroborated by another prominent Nigerian, Alhaji Sule Abiola, younger brother to the late multi-billionaire businessman and presumed winner of the June 12, 1993, presidential election, Chief MKO Abiola. "To envisage what impact Prince Adetunji Ogunwusi as Ooni would have on the socio-economic development of Ife, one only needs to look at his achievements and their impacts on people both individually and as communities. His business focus and targets in diverse sectors of the economy are deliberate to achieve adding maximum values to people lives in specific unique ways."Mr. Eric Balogun, a retired investment banker described him as "a man of good exposure with international contacts and connections. Prince Ogunwusi is very kind, compassionate and with very strong feelings and empathy for his fellow men especially the down trodden."
With  all the  fore goings, it is clear that unlike men of his vast  wealth and influence, Prince Adetunji  Ogunwusi  does not court the media for self-aggrandisement. But in the business world where he has his hands in several lucrative pies like construction, real estate, oil and gas and hospitality among others, he is a Rock Star.  Adetunji  believes that his successes, achieved through his own derring-do and initiatives, can be deployed to making Ile-Ife and indeed,Yorubaland better if enthroned as the next Ooni. And if that is what  destiny holds for him, so be it!