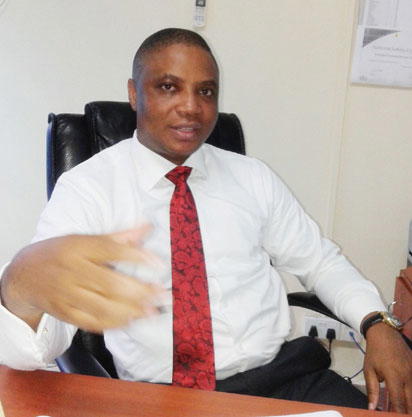 Peter Akindeju
Mr. Peter Akindeju is the head of corporate services, Integrated Corporate Services Limited. He is also the chairman of the organising committee for the upcoming 2015 outsourcing expo. In this interview with JONAH NWOKPOKU, he spoke on the potential of the outsourcing industry in Nigeria, the challenges and how the industry can leverage the expo to continue to drive growth of the sector. Excerpts:
What is the idea behind outsourcing and how has it evolved in Nigeria?
The early players of outsourcing in Nigeria started around thirty years ago. But before then, there have been various business interests that were involved in outsourcing related activities.
It was just that they did not call it outsourcing. Outsourcing is a business model. It is a way of carrying out your business in a model that you don't own totally all the resources you require to provide value to all your customers.
There was a time in the history of doing business globally that people wanted to own everything that was required, in terms of all the resources, logistics.
If you remember many decades ago, even in Nigeria when the oil exploration began, we had companies that had oil wells, filling stations, petrol tankers and what have you. But over time, businesses have realised that that was not an effective of running business.
You cannot possibly own everything that you need in your value chain. So people now changed their minds and began to concentrate on their core competencies. You look at the spectrum of things you require to provide value to your customer, you look at the very core to that business and concentrate on that while you allow other people that have expertise in the so-called non core areas to provide those non-core area capabilities to augment your own core areas to provide value to your customers.
What is your assessment of the outsourcing industry in Nigeria?
Outsourcing started from total obscurity to now gaining traction. Its true there is still need for advocacy around outsourcing but i think outsourcing is gaining mileage in the country. People are beginning to know what outsourcing is and the business model is beginning to gain its rightful place in the economy.
If you look at the various sectors of the economy, you will realise that outsourcing plays a major role. Like i said, there are still people doing outsourcing without even knowing it. There is no sector in this economy that is not utilising outsourcing to provide the services that they provide.
Because I cannot see any sector that is completely independent on its own without receiving inputs from some auxiliary service providers or the other. If you take aviation sector for instance, there is a bulk of outsourcing that goes on in that sector, same as the banking sector and many others. So outsourcing is actually an integral part of our economy.
What is the value of the outsourcing market in Nigeria?
The value of outsourcing transactions going on in Nigeria could be estimated at about $100 billion annually. This is because globally, the value is over $30 trillion.
What strategic steps have you made to make data available for businesses going into outsourcing to make informed decisions?
The outsourcing expo itself is one of such strategies. The expo is a vehicle for expert collaboration and it is also an advocacy point for the industry. What we do at the outsourcing expo is to bring various stakeholders to the conference and let them see what is happening in the outsourcing space.
That is part of it and we continue to do advocacy from time to time. As we speak, there is something called the outsourcing policy in Nigeria which was not there years ago and this was sponsored by National Information Technology Development Agency, NITDA, so there are actually efforts and work going on but of course we need to do more.
What is the outsourcing expo all about?
The outsourcing expo is an annual event that is organised by the Association of Outsourcing Professionals in Nigeria, AOPN. This is the fourth edition of it. It is an avenue for experts and stakeholders to meet from time to time to exchange ideas. This also fosters collaboration and networking and it also provides us an opportunity to align our thoughts and to advocate for outsourcing.
That is what the platform is meant for and from time to time, we bring experts from the global space and they meet with experts in Nigeria to formulate policies and to discuss new ways of practising the profession. This year's outsourcing expo will be happening on June 17th 2015 at Shell Hall, Muson Centre, Onikan Lagos.
The theme of the expo is 'The value of outsourcing.' Some of the speakers include the Director General of NITDA, Mr. Peter Jack, Director/Chief Executive, Business School Netherlands, Mr. Lere Baale and a host of other professionals.
What do you expect at the end of this expo?
It is expected that this event will address the framework for determining the value proposition of outsourcing. Before, it has been a challenge determining the real value of outsourcing. We actually carried out a research sometime ago to compare the perceived value of outsourcing from the customers' side and the value proposition from the providers' side and we saw that there was actually a gap between the two views.
So this we believe will give us an opportunity to actually align the perceived value with value proposition from the customers' side. But apart from that, we are also hoping that there will be a framework for determining a benchmark for scoping outsourcing projects.
Beyond all of that, we expect that we will all know how far the country has gone in terms of making Nigeria an outsourcing hub in the comity of nations in the West African region.
What would you say has been the greatest challenge of outsourcing in Nigeria?
I think the enabling environment is not there yet. The government needs to make a decisive, directed focus on outsourcing. They need to make deliberate efforts to actually develop the outsourcing space. We are losing a lot by not taking advantage of outsourcing.
We have seen what outsourcing has done for countries like China and India. We have seen Singapore develop from zero level and today evolved into a cynosure of international business. So we need to actually make concerted efforts to deliberately develop the outsourcing space in Nigeria. When you look at what is going on globally, when they mention Nigeria, what they say is that Nigeria needs to do A B C and D for them to be recognised as an outsourcing country.
Ghana here is seen as an outsourcing country, same as South Africa and Kenya, so why can't Nigeria be an outsourcing country. Nigeria has more potential in both natural and human resources to overtake all of these countries but we need to make deliberate effort in that direction.
One thing that drives outsourcing is skill, do you think Nigeria has the requisite skills to attract the right kind of outsourcing opportunities?
I believe we do. This is because what is actually required is not much. It may be true that within the space, there is the high end technological requirement but there is still the other end of the spectrum where what is actually required is low skills. Even if we have not developed to that level of high tech talents, what about the low skill talents?
We have those high skill talents. We probably have not given them enough opportunity that will bring them all around into one place. It is not as if we do not have them. But beyond all these, what about the low skill at the low end of the spectrum? What is United States doing with India? They employ call centre agents and Indians' English is not as fantastic as Nigerians'. What are they doing with Philippines?
How educated are they? What are they doing with Mauritius, a country of less than 1.5 million people? Lagos State is bigger than the country but it is an outsourcing country. So as far as the skills are concerned, depending on where we are looking at, the low level, the mid level, we can take advantage of those and then we can now over time put curriculum in place to develop the required capacity at the high end. We might not get there in one day but with structured approach we can get to become a hub.