Speaks on her new project, VIVO
Femi Toyosi Gbede is the MD/CEO – VIVO Communications / Eventplus Managers Ltd. The name should ring a bell – especially for those in the events management business.  He firm handled the grand opening of the IKEJA CITY MALL, GRAND TOWERS ABUJA MALL, Leisure Mall in Surulere and putting up some fun activities at the Palms Mall, Lekki, just to mention a few.  She says she's restless and full of life, yet, she never forgets to bring the God factor into whatever she's accomplished in life.
She would be 50years old on Friday. In this interview with Sunday Vanguard, she takes us through her life, her career and her new project, VIVO, which is a wellness publication. Married to Toyin Gbede, an architect and lawyer, Mrs Toyosi Gbede says this of her husband, "My husband, Arch. Toyin Gbede who happens to be a lawyer and an architect, is probably the major enthusiast. He is of great support and his wealth of experience in the legal, architecture and Marketing  industry is something I tap into regularly".
What were your years  like growing up. From your profile I see that you started out primary school in the UK.
Yes I attended a lovely private primary school in England. Infact, I was the only black child in the entire school, so I had a little dose of discrimination back then, but I scaled through.  I spent a lot of quality time with them going to parks, sight-seeing and things like that. I think that added on to my creativity. I was able to appreciate a lot of things around me from an early age.  I was always full of creative ideas. I always won awards either for my ballet dancing, public speaking, acting and things like that. Returning to Nigeria, my parents settled down in Ibadan and I was opportuned to continue my education in choice schools such as All Saints Church School, Jehrico,  International School Ibadan, Fed Govt Girls College, Sagamu, before I finally went  on to the University of Ife
 Since your graduation from OAU, you've had a very versatile career which spans Marketing Communication, Publishing, Training and Quality Assurance. How were you able to successfully fit into so many roles?
I can say I  am restless or rather , maybe I should say I'm adventurous.  I have a lot embedded in me, so it wasn't difficult to switch. Infact, if I hadn't had the new challenges at different points, I would have been bored with life.  Every aspect I took on as a new challenge. When I took up Quality Assurance and became the Quality Manager in a multinational company, I learnt a lot of new areas. I got exposed to what quality entailed in life. It taught me that you had to live by standards and stick to the standards. It taught me about procedures and auditing every procedure put in place, so it actually gave me life balance…working in this capacity.
As for training which was also part of my job, I saw this as a walk over.  I've always liked talking and relating to people. Infact, when I'm teaching or training, I always want to pour everything I can into the trainee. I like to see people succeed, so anything I see that might support or enhance their life, I am always willing to communicate it to them.
So it was never difficult switching as lots of what I needed to make the switch at different times were more or less already in me.
You've been engaged in various fields. What exactly are your passions.
When you talk about passions, I am very passionate about God and life application of his word.  I am also very passionate about people. I love seeing people become the best they can be. I love seeing people succeed.  I get concerned when I see people not attaining the heights they are meant to attain in life. I am also very passionate about family. I love the family setting .I'm passionate about family values. ….. I'm also passionate about  womanhood . I believe a  women should be a proper wife and mother,  if she is married and if she is  career-oriented, she  must attain the peak of her  career, businesses or whatever is her choice.
On the career scene, I am passionate about anything that allows me to be creative, innovative and allows me to express myself.
 Tell us more about your career history and how you've been able to juxtapose the various job roles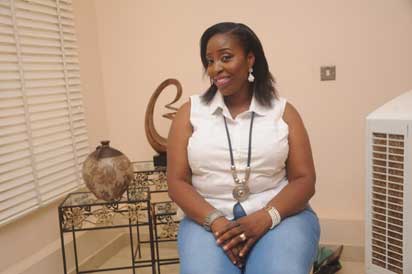 My career history has been rather interesting. I started out as a temp worker with a publications outfit. Despite the fact that it was a temporary job, I took it very seriously and was very interested in the job.  I later had a marketing job and rose to be the head of marketing.   I later started working with a Swiss company (SGS inspection services) where I took on a new challenge as Training and Quality Assurance Manager.  It was exciting and new for me and I was trained both in and outside Nigeria for the job.  I particularly liked the training aspect of the job. Each time I went on training from work outside the country, it opened me up to  new levels and ideas. I think this was where I started nursing ideas on what I could do as an individual.
 Over the years you've built a career around the advertising/marketing industry, starting at Ultimedia ltd  and ending up at SocieteGenerale de Surveillance. However, you resigned to set up your marketing and event outfit, EPM ltd, in 2004. How did you coin that out of you, considering the fact that you never worked in this area directly, or  prior to this time?  How did you come about setting up an event company?
As I said, in all the areas I've worked in, I've always gained a lot on the various jobs I have  worked at.  Especially in the last place of work I was as an employee at a multinational company. I came up with bold ideas. One of them, which started out like a joke, was when I collaborated with a friend to put up a commercial fair and exhibition tagged XMART FAIR. It was a start up for me in events and I realised that if I put my mind to it, the fair could become an annual event and we were able to pull a good crowd and have a number of stalls along with sponsors and advertisers at the event; but unfortunately, we didn't have another fair on that platform.  I could fathom anything and put it to reality.  At this period I was also involved with some  NGO's where I also exerted my organisational skills and  event capabilities.  Eventually I pulled out from work and  allowed God to order my steps to the event industry and I started ..EVENT PLUS MANAGERS LTD.
 Since the inception of EPM ltd , what are the major projects you've handled as an event manager
Well we've done a lot and some of them were really big time; but I'd particularly want to talk about those that we seemed to create a niche for. All of a sudden, we found ourselves being involved with different Malls all over  the country .
We handled the grand opening of IKEJA CITY MALL and we came up with a whole line of ideas towards promoting the mall in the first year of its opening. We also did a similar opening at GRAND TOWERS ABUJA MALL. And before we knew it we were also handling Leisure Mall in Surulere and putting up some fun activities at the Palms Mall, Lekki.  Infact everyone was wondering what it was we had going with the malls. Friends thought I must really like shopping ….
 What major project(s) is EPM working on at the moment?
We have just given birth to a new baby. The baby is another brain child of ours. We have come up with VIVO Communication platform which seeks to enlighten and discuss everything about wellness, wellbeing and Life balance.
 What does VIVO mean?
The word VIVO refers to being alive, alert, zeal, on top, vibrant…..and that's just what VIVO wants to communicate to our audience
 How did you come about VIVO?
Well, I knew I wanted to make my voice heard, I knew I wanted to communicate what I felt would make an impact in peoples' lives.  I had stumbled on the aspect of wellness in the past and I saw it as the way to go for proper life balance and living a life that is productive and fulfilling.  Hence, I had the desire to put it across to others and believe it, the birth of VIVO Communications. It wasn't a one day idea. I'd wanted to put up a platform on wellness a few years back.  Just didn't follow through as at then.  But I kept on researching, reading up and doing my findings about wellness in the last 4 to 5 years.
I got the inspiration for the name VIVO more or less in a  meaningful flash but as I said, I had meditated on the wellness concept for quite a while. Beyond that I strongly believe that ideas come from the creator of ideas ….the God factor.
 What does VIVO intend communicating?
VIVO is about wellness and life balance. It is a means to make people have a more beautiful life experience. Our slogan says 'life is beautiful'.  It's not just about physical wellness, but it actually benchmarks the entire wellness wheel concept which talks about Physical, Social, Intellectual, Environmental, Financial and spiritual Wellness.
VIVO will talk about every aspect that contributes to life balance – be it playing a sport, watching a movie, cleaning your environment, just name it! As long as it will contribute to the human wellbeing we MUST talk about it. We've looked at the average mortality rate worldwide and it's rather appalling to see the figures, so this calls for action. People need to be educated and exposed to more information. That's our call.
 On what platforms do you intend communicating the VIVO brand?
VIVO will eventually grow and span through all media platforms but we are debuting with our on-line
 Who is VIVO's target audience?
Our target audience spans all ages, gender and nationalities. There is something for everyone.   But having said that, VIVO will be seen to appeal to the working class individual.
 Who are VIVO team?
We have a very vibrant and intellectually sound team. We have a mix of professionals in their respective industries and we also have a crop of young and upcoming writers who are very enthusiastic about VIVO.  We have the likes of Arinola Adeniyi, a Qualified Wellness coach and CEO of Venevici Spa, Dr Lekan Bello, a medical doctor,  physiotherapist and life coach based in the UK, Muyiwa Afolabi , a motivational speaker, radio presenter/producer and social architect. Taiwo Okpongete, a qualified career coach and human resource professional  among others.
 When will VIVO magazine land at the shelves?
It will first land on social media platforms on the 19th of June ( by the grace of God), as we come out with the online version of VIVO magazine. The print copy will hit the stands in less than 3 months after the online debut.
Where do you see VIVO in the next 5 years?
In 5 yrs. VIVO will have explored all communication avenues and possibly will move on to new grounds, exploring other meaningful ways to  make the Wellness concept acceptable to all.
 How about the family?
My husband, Arch. Toyin Gbede who happens to be a lawyer and an architect, is probably the major enthusiast. He is of great support and his wealth of experience in the legal, architecture and Marketing industry is something I tap into regularly.
 You'll be 50 years old on Friday June 19th, how does this make you feel?
I must say I don't feel a hoot about getting older. I can hardly believe that I'm attaining that age. I think new baby projects like the VIVO project are just part of what keeps you agile and feeling  young at heart. Age is in the mind.  I feel as if I'm turning 30 actually….
What excites you most in this season of your 50th birthday?
I'm just grateful to God for letting me be alive and in sound health and still able to pursue dreams with my children and husband, friends and family by my side. It's an AWESOME feeling and a catalyst to the next FIFTY years of my life….( laughs..).