By Jimitota Onoyume, Gbenga Oke & Davies Iheamnachor
Out-going Rivers State governor, Mr Rotimi Amaechi, has challenged the state governor-elect, Mr Nyesom Wike, that he (Amaechi) was not afraid of his administration being probed.
Speaking at his 50th birthday public lecture in Port Harcourt, Amaechi said "Listening to the governor-elect, Wike, I am trying not to respond to him because he has been accusing me of corruption, forgetting that he was the Chief of Staff to this government and knows well how this government is being run. So, how can he turn back and accuse me of corruption? Then he must be part of the corruption himself."
Meanwhile, Amaechi at Government House during the inauguration of the 22 local government chairmen, elected at Saturday's council elections, said that Wike cannot dissolve the 22 councils elected on the platform of the All Progressives Congress, APC, as such power only lies with the court.
He insisted that the state government and the Rivers State Independent Electoral Commission, RSIEC, complied with all the stipulated laws on the conduct of the council elections. He assured the people of the state that the 22 chairmen will complete their term in office.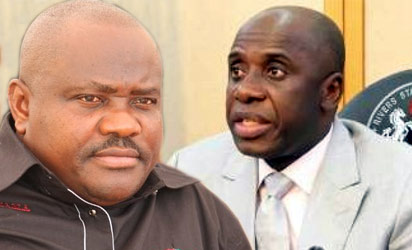 At his birthday lecture, he said "He (Wike) has been saying that he will probe me, but everybody can remember that despite calls by people of this state to probe former Governor Peter Odili, I never did. If you continue probing what the former administrations have done, how will you perform?
"This hall is a testimony of my actions in government and I can say boldly that I am a Christian, I have never killed in the course of my political life and I will not kill anybody in my life. Rather, I will drop my political ambition.
"I have satisfaction over what I have done, especially five days ago when my children and I  were discussing in the United Kingdom. We were gossiping their mother, my wife, Judith. One of my sons said: 'Despite the problems we have in Nigeria, you are so honest and transparent.' I asked why he said so and he responded that 'from our relationship with you, you have always told us not to steal anybody's property and it is important for all Nigerians be critical of that.'
"My eldest son also told me, 'It is a good thing you are leaving government, but why hand over to Wike as governor?' He said everybody knows my struggle and he was proud to have me as a father. For me, that is one of my greatest achievements as a father.
"The fight is not over yet, the struggle continues. Wike is looking for us to come and join them in office but that will not happen. They even got injunction against the panel we set up to investigate deaths of innocent people during the presidential and governorship election in Rivers State.
"He went ahead to hire people like Ateke Tom just because of elections. I can boldly say that when I became a governor, nobody died, but because of Wike's ambition, people are dying every day. The Lord I worship assured Nigerians that God will save us from the Peoples Democratic Party, PDP, and I can say that God will deliver us and we will defeat Wike. Even if I stop praying, God will make a way."