By Jemi Ekunkunbor
The effect of the hot sun is beginning to tell on a lot of Nigerians; preventing many from getting outdoors and inhibiting activities. Here are some ways to beat the harsh effect of the rays and stay healthy and hydrated.
Wear brimmed hats
Wide brimmed hats, baseball caps and other kinds of hats, help keep the sun at bay. Find one that can also pep up your outfit and make you look glamorous.
Wear sleeveless summer dress
Summer cotton dresses are great for this season. They are not only feminine, they are colourful and comfortable to wear. You can also find a sleeveless dress in special occasion wears. If you are not comfortable with a sleeveless dress, decide which sleeve length will be good for you.
Use sunscreen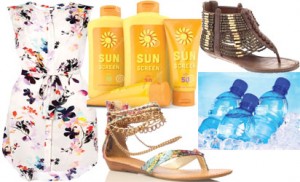 Apply sunscreen with a sun protection factor (SPF) of 15 or higher to all exposed areas of your body. Also, use lip balm to protect your lips. This is particularly important for those up north.
Drink plenty of water
Dehydration is inevitable with the way the sun is blazing. Drink plenty of water and always keep a bottle nearby to quench that thirst.
It is advised to drink at least eight cups of water a day. But with this sun, you need to help yourself to more cups. Drink water before, during and after physical activity.