By Dayo Johnson
Akure—ONDO state Information Commissioner, Mr. Kayode Akinmade, yesterday decried the inability of a good number of people of the state, including himself, to obtain their Permanent Voter Cards, PVCs.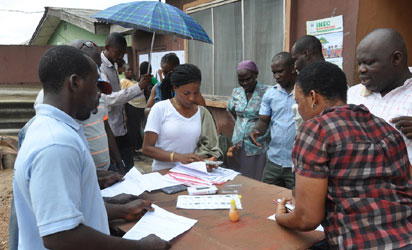 Akinmade submitted that he would have also been unable to vote had the Independent National Electoral Commission, INEC, insisted on the February 14 and 28 election dates.
Speaking in Akure the state capital, the Commissioner said that he and others who have been unable to collect their PVCs would have been disenfranchised.
He said: "As we speak, some members of my household and many others in the state, including myself, have not been able to get our PVCs. Many others have also complained to me about the same issue. I have made spirited efforts to get the card but to no avail."
According to the commissioner, "the electoral body would have prevented a lot of people who were ready to carry out their civic responsibilities from doing so due to no fault of theirs."
Akinmade, who applauded the electoral body for postponing the election said apart from the PVC issue, there are a number of other grey areas which the body should look into and make amends before the elections hold next month.
"The card reader for instance, there have been reports that its efficiency is still in doubt as it has not been properly tested.
"There is also the issue of the fake ones that have been rejected by the Resident Electoral Commissioners.
"These and other issues should be addressed before next month when the elections are expected to hold if we must have free and fair elections."
The commissioner praised members of the PDP in the state for their peaceful conduct since the beginning of the campaigns.
Akinmade added that the party   has not left anybody in doubt about its preparedness for the polls as well as its mega status in the state with the kind of campaign and the turnout at its rallies.
"No doubt the PDP in Ondo state has been able to hold one of the best campaigns since the electioneering period.
"The presidential campaign in Akure was second to none, and the campaigns at the state level have been highly successful. The party has really lived up to its mega status billing."