By Monsuru Olowoopejo
Just like any other parent, Mr. Babatunde Ogunyemi's aim has been to have family that would always be together to celebrate every festive period. For Ogunyemi, his joy has been to watch his children grow with high model of moral social values in them.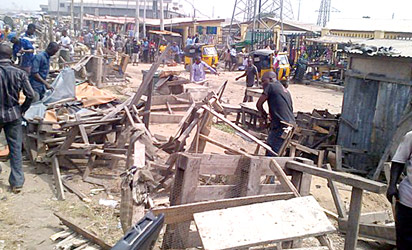 Unfortunately, these wishes were cut short on February 23, 2013, when the Lagos State Government demolished several structures in Badia East, Apapa Iganmu Local Government Area of the State.
This action was what forced the Ogunyemi family and over 2, 000 other residents of Iganmu Alawo and Ilu Eri to be rendered homeless.
In the wake of the demolition exercise, which affected no fewer than 319 landlords, Governor Babatunde Fashola said the government would be erecting 1, 008 low cost housing units in the area. But barely two years after, Vanguard gathered that the affected victims have continued to lament the delay of the state government to compensate them for their loss of properties.
Sadly for Ogunyemi, an artisan, he was caught unprepared by the demolition exercise of his community, as he was only informed of the incident by his wife, while he was at work. He returned home to meet his properties all destroyed and lying in rubble.
Explaining his ordeal, Ogunyemi said: "After that day, things have been tough. I had to send my family to live with my elder sister while I lived with my friend. My aim now is to work hard and raise enough money that will enable me secure a better accommodation for the family. But all I get at the moment could only cater for feeding.
"If I had enough money, I would not have waited for the government compensation. Rather I would have gone to secure a better apartment for my family. But we are still waiting for the State Government to fulfil the promises it made to us."
He added that "Previously, the state government promised that the displaced landlords will be among the first beneficiaries of the low cost housing units. In order to actualize this and get compensated for our demolished houses, the state government asked us to nominate representatives to meet with government officials.
"The government team was led by the state Attorney-General and Commissioner for Justice, Mr. Ade Ipaye. Other members of the team were Commissioner for Housing, Agriculture and Cooperatives and Information and strategy. But the government reneged one year after on its promise, and we had no option than to look elsewhere for help," he said.
Similarly, another victim, Mrs. Ayinke Stephen told Vanguard that the victims were divided into group A, B, C and D, explaining that "Group A and B were residents of Badia East, Group C were Iganmu, while Group D were those who were not available when the names of the victims were compiled.
"One year after, when the state government could not fulfil their promise on the housing unit, the government approved the sum of N284.4 million, as compensation. The government started the payment, but we were surprised that the state government officials did not complete the payment which they started with Group A and B.
Case is closed—Ipaye
Responding in a text message to Vanguard, on Sunday, the state Attorney-General and Commissioner for Justice, Mr. Ade Ipaye stated that the case is closed.
His words: "There is no one remaining. All accredited beneficiaries have been paid. We had a last minute rush of claims (after close of verification) which we checked and found to be fraudulent.