By Olasunkanmi Akoni
As part of efforts to ameliorate the human and investment casualties lost to fire outbreaks in the state, Governor Babatunde Fashola of Lagos State has handed over 32 customized and purpose built fire fighting trucks, two maintenance vehicles and firemen apparels for the use of Lagos State Fire Service.
The trucks consist of 15 Fire Eagles, 15 Rapid Eagles, two Aerial telescopic turn-table ladder and 2 Maintenance vehicle workshops on wheel, as well as fire fighting apparels for the personnel.
The arrangement to provide the state of art equipment commenced in 2011, with a contractual agreement between the government, W.S Darley and Company of Itasca Illinois, United States of America. The agreement covers the purchase of 32 fire trucks.
The initiative also provided for a comprehensive training of the fire service personnel to ensure optimal use and maintenance of the fire trucks. In furtherance of this maintenance purpose, the manufacturer also built two fully equipped and multipurpose maintenance workshops on the wheel which can function for 24 hours to effect repairs on any of the fire trucks.
Multipurpose workshops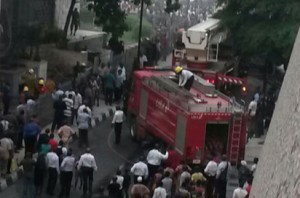 So far, government had already trained a total of 570 young men and women, 10 from each of the 57 Local Governments Areas and Local Council Development Areas of the State as first emergency service responders to work in collaboration with the State Emergency Management Agency in the case of emergencies in any of the council areas.
At the 2014 Ministerial Press Briefing in Ikeja, the Commissioner for Home Affairs and Culture, Mr. Oyinlomo Danmole, disclosed that the government saved N106.44 billion worth of goods and property from the 1,774 fire outbreaks in the last one year.
Meanwhile, reacting to the controversy that trailed this project, Fashola said: "There was initial controversy on the genesis of the new fire engines and equipment. When the present administration wanted to buy them, government critics and opponents were quoted in some National Newspapers saying the government had gone to raise foreign loan. But government maintained that the equipment were manufactured from scratch by a company in the United States and financed by an Export and Import (EXIM) Bank loan.
Fashola, while absolving government of any wrong doing, expressed joy that a representative of the manufacturers, Mr. Peter Daley was present at the occasion to testify to the claim.
The Director, Lagos State Fire Service, Mr. Kunle Fadipe, who commended the governor for keeping to his promises, said: "Without mincing words, the commissioning of these new state-of-the-art equipment has brought me to a conclusion that the promise made by the governor is now promise fulfilled."