By Samuel Oyadongha & Egufe Yafugborhi
Yenagoa—Motorists plying the East-West Road were, yesterday, stranded for hours as ex-Niger Delta militants under the Federal Government's amnesty programme blocked the road in protest over alleged non-payment of their arrears.
Meanwhile, authorities at the Presidential Amnesty Programme have appealed to the former agitators currently protesting delay in the payment of their November 2014 stipends to halt further protests so as not to heighten the tension in the polity.
The ex-militants staged the protest at the Mbiama Junction of the busy highway, gateway to the South South states of Rivers, Akwa Ibom and Cross River.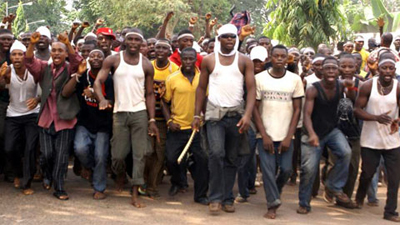 The latest protest on the Bayelsa flank of the road, the second in two days after the Wednesday incident staged on the Patani flank in Delta State, left several commuters including a senior Airforce officer and his escort stranded as the protesters refused to create a corridor for them.
The ex-agitators from Delta and Bayelsa states, it was learned, were protesting the non-payment of their November allowance by the Federal Government.
One of the ex-agitators, simply identified as Rufus, lamented that many of the trained youths were jobless, warning that they might be forced to relocate to the creeks if their demands were not met.
But the Presidential Amnesty Office pleaded with the former agitators in the Niger Delta and beneficiaries enlisted in the Presidential Amnesty Programme, to eschew violence and show understanding.
The Amnesty Office in a statement by its Head of Media and Communications, Mr. Daniel Alabrah, said the appeal became necessary following protests by some beneficiaries in some Niger Delta states in the last two days over the delay.