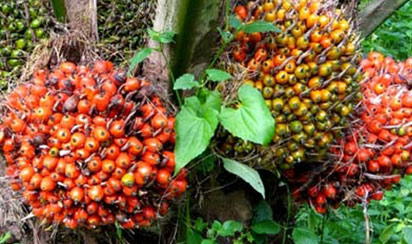 Oil palm fruits
The Federal Government is committed to supporting private sector investment in backward integration to make Nigeria self sufficient in oil palm production.
This remark was made by Minister of Agriculture and Rural Development, Dr Akinwumi Adesina when management of PZ Wilmar paid him a courtesy visit in his office.
The purpose of the visit, according to the Chief Executive Officer of PZ Cussons the joint-venture partner, Mr Christos Giannopoulos was to update him on oil palm plantation project being executed by the company in Cross River State.
The 26,000-hectares project is part of an integrated end-to-end value chain in oil palm production and processing. According to Giannopoulos, so far over 1.9 million high yield tenera variety seedlings has gone through various stages and have been re planted. It will in the not too distant future close the supply gap of crude palm oil in the Nigerian economy. Furthermore, it will supply raw materials to its 1,000 ton per day refinery.
Responding to the briefing by Giannopoulos, Dr. Adesina assured PZ Wilmar management its appreciation of the role private sector can play in putting Nigeria back to its rightful place by 'building the foundation for Nigeria to be what it should be'. He urged the management to develop a robust small-holder scheme so that technical know how could be passed on to small scale holders.
Contributing, Managing Director, PZ Wilmar Nigeria PLC, Mr. Santosh Pillai told the minister that the company is working with Cross River State.