In what could be yet another topical discussion in Nigerian football, out of contract Super Eagles coach, Stephen Keshi has effectively ruled out the chances of having Seattle Sounders of America striker, Obafemi Martins and Manchester City wonder kid Kelechi Iheanacho called up to the Eagles in the nearest future.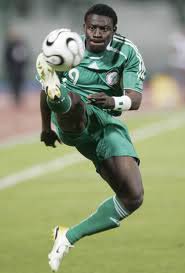 There have been calls from different quarters for the inclusion of the 17-year-old prodigy (Iheanacho), who shone brightly at the last FIFA U17 World Cup in the United Arab Emirates, to the Super Eagles, but Keshi, whose future with the team remains uncertain at the moment, has killed whatever hopes Nigerians had of seeing Iheanacho in the next qualifiers for the 2015 Africa Cup of Nations.
"Iheanacho hasn't been playing in the premier league and it simply tells you that Manchester City wants him to get more experience," said Keshi.
"He is not part of the team (City) at the moment and he has to get more experience and maybe see if he has what it takes to be there."
According to Keshi, Martins' desire to return to the Super Eagles is admirable, but not possible because according to him, the former Inter Milan striker has got to give a chance to the younger players. "For Obafemi Martins, it's good to indicate  interest to play for his country, as a former player of course.
"But we have other players out there in his position, younger players. So we have to give younger players a chance and the opportunity to grow," Keshi insisted.
This will come as a big shock to Martins, who hasn't hidden his desire to return to the team and had earlier said he hoped his good goal scoring form will earn him a recall.
However, Keshi has obviously ended the chance of any of that happening, if he remains in charge.