By GODFREY BIVBERE
Executive Secretary of the Nigerian Shippers Council, NSC, Hassan Bello, has warned that the Council as the economic port regulator will not accept any form of arbitrariness in charges or abuse of dominate position by any operator.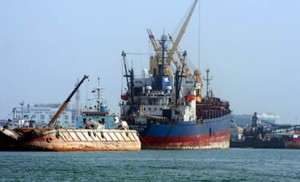 The NSC boss who made this known at Onne port when top management of the Council visited Integrated Logistic Services, Intel's, to get first hand knowledge of the operations of the company to enable it appraise it with complains received from other operators as economic port regulator.
Hassan said this was necessary because they want to be as neutral as possible in their regulatory function. He told the management of Intels that all operators would expect the  Council to intervene when there are areas of disagreement.
The NSC helmsman also said that the visit will afford them the opportunity to access Intels  level of efficiency, tariff structure, unilateral and arbitrary factors.
He also stressed that because the Council want to be fair to all, they will ensure that all tariff structures are scientific and therefore will not allow any form of arbitrariness.
He assured the Intels management that the visit was not a fault finding one but that apart from the above, it will also give them opportunity to listen to them.
He said that the visit will also afford the Council the opportunity to know the  challenges being faced by the company as well as responsibility of government in the concession agreement that has not been done.
Responding, Head of Operations of Intel's, Marko Miskovic, told the visiting team that the company has nothing to hide and assured them of the cooperation of Intels in the performance of their duty as port economic regulator.