Odunayo Adekuoreye and Aminat Adeniyi gave Nigeria the perfect pick-up as they claimed two gold medals in wrestling – and then celebrated their achievement by singing round the venue with the green white green flag fluttering.
It was a glorious day for Nigeria in Glasgow as the national anthem held everybody spell-bound with rapturous celebrations coming from other athletes and officials.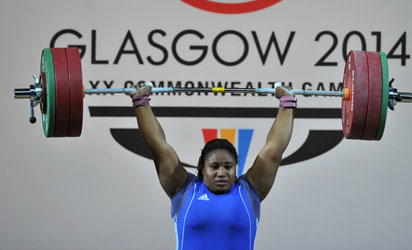 Odunayo Adekuoreye started the Gold rush when she rushed India's Lalita to submission winning 5-0.
While the ovation and celebration was still on, Aminat Adeniyi did not give her Indonesian opponent, Shakishi any chance as she pilled up points after points romping into a 6-0 lead.
The second round was swifter and the Nigerian still smiling while twisting and turning the Indonesian amassed four more points to gross 10 points and win gold for Nigeria in a night that solely belonged to Nigeria. Aminat also showed off her dancing prowess as she took time to dance to the admiration of the crowd. Later, Odunayo and Aminat covered by the Nigerian flag took a lap of honour savouring the praises.
Team Nigerian officials were not left out of the celebration as Chef de mission, Hon Gbenga Elegbeleye jumped and danced.
On a golden night, Amas Daniel also won bronze in the Men's 61kg category.