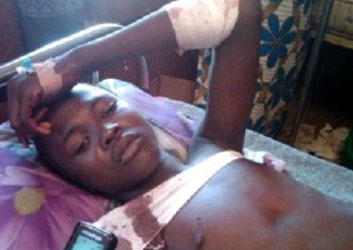 A survivor of the Yobe massacre. Courtesy: Sahara Reporters.
Damaturu — The Yobe Government has said that the closure of Federal Government Colleges in the three north-eastern states would help the students and their parents overcome fear and phobia arising from armed attacks.
The News Agency of Nigeria, NAN, reports that the Federal Government ordered the closure of unity colleges in Adamawa, Borno and Yobe states in February following attacks on the colleges by gunmen.
Alhaji Ahmed Goniri, Commissioner for Justice, stated the government's position in an interview with NAN yesterday, in Damaturu.
Goniri, who is also Chairman, Federal Government College, FGC, Buni-Yadi Relief Committee, said: "Parents and students are still in a state of phobia and fear. The temporary closure will give them the opportunity to overcome fear."
He noted that the closure would also provide government with time to reconstruct the damaged schools and re-strategise its security measures around them.
He said the state government had donated N100 million to rehabilitate the staff quarters and assist teachers who lost property in the attack, families of deceased students, and those who sustained injuries.
Goniri advised that the colleges should be re-opened by next academic session when security in the three states might have improved.